The urge to use your Mac Mini as an Apple TV is not only yours; we have thought of trying it too. But is it possible? Yes, it is!
So, how can you use your Mac Mini as Apple TV? The process is relatively straightforward. You can mirror your Mac Mini to your Apple TV wirelessly using AirPlay. Thus, you can see everything you see on your Mac Mini on the Apple TV.
Screen mirroring is the only way to use your Mac Mini as an Apple TV. But there's more to know about how to do that. So if you are confused, let's show you a ray of light now!
Can You Use Your Mac Mini As Apple TV?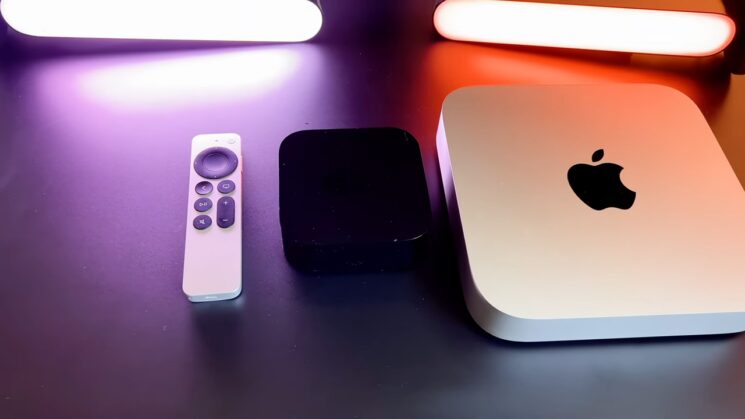 Yes, you can. The AirPlay feature for Apple products will let you do the screen mirroring. By connecting these two through AirPlay, you can quickly screen mirror the two devices for your business or entertainment purposes and watch stuff on the big screen.
But, What Is Airplay?
AirPlay lets you watch videos and screen mirroring if you don't already know. You can mirror your Apple devices like iPhone, Mac Mini, iPad, or even Apple TV using the system.
Important To Know: AirPlay‌ is compatible with 2018 or later MacBook Air or Pro, 2019 or lateral Mac Pro, ‌iMac‌ Pro, and the 2020 or subsequent M1 Mac Mini. The software version needs to be running iOS 15 or later.
Now, let us show you how can you use it to mirror your mini-screen:
Step-1: First, make sure that your mini and Apple TV are on the same network connection.
Step-2: Now, take your Mac Mini and search the apps to open Apple TV.
Step-3: Now, find the AirPlayicon from the control center of your Apple menu and select your Apple TV.
Step-4: Now, you can control what's playing in the Apple TV app using your Apple Mac Mini.
Not only on Apple TV but you can also screen mirror with other Apple devices with your mac OS. Now let's see what else you can do:
Mirroring Videos From iOS To Mac:
Step-1: Make sure that both devices are connected to the same Apple account.
Step-2: Now play the video on your iOs.
Step-3: Find the AirPlayicon in the media interface and select your Mac.
Step-4: Now, you can see the video on your Mac.
Listening To Music From iPhone Or iPad To Mac:
Step-1: Both your devices need to be on the same Apple account. (you can check it from the Apple menu)
Step-2: Now play music or podcasts from Apple music on your ‌iPhone‌ or ‌iPad‌.
Step-3: Find the AirPlayicon in the media interface and select your Mac model from the devices.
Step-4: Once you choose the device, the music will start playing through your Mac Mini or connected external speakers.
How To Connect A Different Display To Your Mac Mini?
If you want to connect an external display or TV screen to your Mac Mini, the procedure is not that hard. But you have to make sure of a few compatibility checks before you start.
When you own a Mac Mini with an Apple M1 chip like the M1 Mac Mini, it's possible to connect the mini with an external display (up to 6k) using a Thunderbolt 3 (USB-C) mini DisplayPort. You can also add another display (up to 4k) using the HDMI 2.0 mini DisplayPort.
But if you own other Mac Mini models, you can connect a 5k display with a Thunderbolt 3 (USB-C) port. Also, you can add three different 4K displays using two USB-C ports and the HDMI 2.0 port.
Controlling The Mac And Apple Tv: How To Do It?
You can use the Siri remote to control both your MAC and Apple TV. But to use the Apple TV Siri remote, your Mac and Apple TV need to be compatible with it.
Hereby, you need to install an App named SiriMote to use the remote on your Mac. Once you install SiriMote, you can use the remote to control your Mac and Apple TV.
Apple TV Vs Mac Mini – The Comparison
If you want to know more about both of these, a comparison can give you what you need. So this attempt is to know which one is for what purposes so you can choose better. Let's see!
| | | |
| --- | --- | --- |
| Feature | Mac Mini | Apple TV |
| Usability | Internet Usage, Microsoft Office, And Other Applications Usage, | Watching Videos, Listening To Music. |
| Drawback | Small Display | No Internet Connectivity Option |
| Connectivity Options | Mini Display Port Or An Apple Adapter, Also HDMI Ports For New Mac | HDMI Cable |
| Traits | Comes With Intel Core I5 Processor With 1.4 GHz Frequency, 4GB Memory. | The A8 Chip And 2GB Ram, Internal Memory Of 32GB Or 62GB, and a big screen. |
| Costing | Costs More | Costs Less Than An Intel Mac Mini |
As you can already see all the comparisons, we will elaborate on the feature to better understand. It will help you decide which one is a good shot for you.
Usability: Intel Mac Mini offers you various settings for work, education, and even entertainment. You can use the internet, search for necessary information, and use different apps.
On the other hand, Apple TV can be used as your regular TV for entertainment purposes like watching videos or listening to music.
Drawbacks: the main drawback of the mini is that it doesn't have a large display. On the other hand, the disadvantage of an Apple TV is that you cannot surf the internet as there is no internet connectivity.
Connectivity Options: in your Mac Mini and M1 mac, you will get the mini display port or an Apple adapter for connecting it to other devices. Also, new Macs come with HDMI ports for hassle-free connectivity.
In contrast, Apple TV lets you connect it using the HDMI cable. The usability of the HDMI cable is pretty straightforward.
Costing: the cost of Mac Minis is far more than that of Apple TV. But considering the upsides, the price doesn't seem like a big issue as it is convenient.
Our Verdict: if you ask us for a recommendation, we will vote for Mac Mini as it offers more versatility and optimum performance with user comfort. In this modern time, you need access to the internet as much as you need entertainment. And the mini offers accessibility to the users with a lot of other options despite being a little costly.
So, the verdict is simple if you want to stream videos, on Amazon or Netflix- Apple TV is good for you. But if you're going to do other tasks like surfing the internet or writing documents- Mac Mini is the one.
More To Explore About The Devices:
Does Mac Mini Work With Any Monitor?
Yes, if you have the correct ports and adaptors, you can connect the mini to any monitor. The versatility of the Mac Mini is incredible to connect it to external monitors, and the procedure is sleek as well.
You will get two display output options in the Mac Mini- USB-C/Thunderbolt and HDMI 2.0. So, getting adaptors, You can get adapters and other accessories to connect the Mac Mini to other devices. You can also share your TV screen with it.
Is The Apple M1 Mac Faster Than Mac Pro?
Yes, it is. According to Apple, the Apple M1 Max-powered Mac Studio offers a 3.7 times faster response than a Mac Pro. Besides, an Apple M1 Ultra Mac Studio provides 5.6 times more immediate response than a 28-core Mac Pro. So you know which one to choose!
Why Is Apple Tv Not Working On My Mac?
The basic troubleshooting may work here; try restarting the Apple TV. If it still fails to work, you might need to reset the Apple TV app. Doing so will remove all your data and saved information from the app and accounts. After resetting, try again and see if it works or not.
Can I Use A Mac Mini As A Streaming Device?
Yes, undoubtedly, the Mac Mini is one of the best devices for streaming. Even if you are going live on any platform, the M1 Mac will be your perfect companion.
Does The Mac Mini Have Speakers?
Yes, it certainly comes with speakers, but the sound quality is not top-notch. So if you want the optimum performance, we suggest using an external Bluetooth speaker to get the best sound quality, as the default speaker may sound low and disrupted.
Can Mac mini support a 4K TV?
Yes, most Mac mini models are capable of supporting 4K displays, including 4K TVs. However, whether a specific Mac mini model can support a 4K TV will depend on the model's technical specifications, particularly the graphics card and the number of available display ports.
For example, the Mac mini models released in 2018 or later come with an HDMI 2.0 port, which can support 4K displays at 60Hz. This means that you can connect a 4K TV to the Mac mini using an HDMI cable and enjoy 4K video output at a high refresh rate.
However, older Mac mini models may only support 4K displays at a lower refresh rate, or may not have an HDMI port at all, in which case you may need to use a Mini DisplayPort to HDMI adapter or a Thunderbolt 3 to HDMI adapter to connect the Mac mini to the 4K TV.
Overall, most modern Mac mini models should be able to support a 4K TV, but it's always a good idea to check the specific technical specifications of the model you're interested in to ensure it meets your requirements.
Drawing The Finishing Line
Simple procedures can let you use the Mac Mini as Apple TV. Not only Apple TV, but you can also mirror the Mac with your other iOS devices to stream videos and even listen to music. Mac Mini is an excellent device for helping you with the versatility to be utterly satisfied.
As you already know how to screen mirror using AirPlay and other options, you can easily use the mini for various purposes like streaming videos, music, and even podcast streaming. However, check the compatibility before starting, as earlier models may not show compatibility with our procedure.