Sometimes, when we try to connect a different monitor to our PC, we get the problem of no signal. This signal issue can also happen when we are working when the monitor goes to sleep when we restart, or while starting your pc for the day.
Are you facing trouble with Asus monitor HDMI with no signal? Well, this problem can be caused by defective connections, damaged cables or monitors, and outdated drivers. The solution might include resetting the connections, replacing cables, and repairing.
This article will address the possible causes of this no-signal issue. Then we will look at the solutions by dividing them into primary, secondary, and final sections. We hope this article will be enough to save you from this irritating monitor hassle.
Problem & Solution At A Glance
First, let's have a quick look at the possible reasons and practical solutions regarding your Asus monitor not working:
| | |
| --- | --- |
| Reasons | Solutions |
| Your power supply is interrupted. | Ensure an uninterrupted power supply. |
| The cables are broken or damaged. | Replace your old damaged cable. |
| Your device drivers are out of date. | Perform necessary updates. |
| Monitor's refresh rate is not accurate. | Reset monitor or factory settings. |
| Hardware damage in the PC | Takes some repairing actions. |
Latest Asus Monitors
Find Out The Reasons First
If you know the causes of your problem correctly, you can cure them quickly. By understanding the reasons behind your Asus HDMI monitor not responding, you can solve the complication from the root. Also, you can avoid the causes in the future.
1. Weak Power Supply
Remember that your electronic devices need a smooth power flow to work correctly. If you have an interrupted power supply, it can harm your PC. Using a poorly constructed cheap adapter or multiplug with low-quality cable is also responsible for HDMI no signal.
2. Damaged Cable
The primary reason you get HDMI no signal notification is a broken HDMI cable. Even your other cords like power cables, DVI cables, and DisplayPort cables can be damaged. Putting the wrong thread into the wrong port can damage the power supply ability of the cord.
3. Defected Display Port
The ports behind or under your Asus monitor can be damaged too. Force input, wrong insertion, overheating, or overpowering can harm the display port, including the HDMI port. Not understanding which port goes with which cable can lead to this problem.
4. Backdated Drivers
If your deceive drivers like chipset drivers or graphic drivers get out of date, you may face the monitor not working issue. Backdated graphic drivers can not match and detect with the new monitor, so they became unable to send the signals properly.
5. Hardware Problem
Loose connection, poor setup, and wrong placement can cause damage to your PC's hardware. Your monitor can be faulty or broken from the inside. Also, hardware like the video card, CMOS, or motherboard can be flawed, loose, broken, or burnt to work correctly.
Solutions Regarding Your Asus Monitor HDMI No Signal
Neither your Asus monitor nor any technological device is error-free. Do not lose tamper if you are getting no signal in your HDMI-based Asus monitor. By checking some easy-to-follow yet effective actions step by step, you can get rid of this issue.
Primary Solutions
1. Examine Your Power Source
Your first and foremost job is to ensure that you have a stable power supply. Check your main or wall outlet, socket, and receptacle if they are working fine. Also, use an adaptor to support your monitor and power supply equally.
2. Restart The Connections
Restarting or reconnecting your devices and all the links is an initial thing to do. Disconnect your tv or monitor and PC from the power source. Unplug all the HDMI cable from the PC, monitor, and adaptor. After some time, reconnect them all and start working.
3. Check The Ports
As this is an HDMI-related problem, you need to check the HDMI ports initially. Examine if the HDMI input of your monitor, pc, and adaptor is clean and not damaged. You should disconnect and reconnect all the HDMI ports with the HDMI cable properly.
4. Insert The Cord Fully
Asus monitor is not detecting HDMI or HDMI signal, this particular problem happens for loose connection. Check if the cords are inserted properly. There should be no gap between the port and cable connection.
5. Get Rid Of Damaged Cables
If you notice any damage to your HDMI cable or monitor power cable like, cut, bend, nicks, or cracks, immediately throw them away and replace them with new cables. Also, it would help if you never consider using old cords or repairing damaged HDMI cables with scotch tape.
6. Is It Your Cable Or Monitor?
Disconnect your HDMI cable from your Asus monitor and try another one. If it works, then the problem is in your cable. Try connecting your monitor to another computer. By this method, you will be sure whether it has hardware issues and move forward.
Secondary Solutions
1. Update Your Device Drivers
You need to update your graphics driver or graphics card to the latest version. Also, update the chipset drivers from the display settings. If you don't know or are too scared to update the drivers, use a third-party setup to recognize the drivers and update them automatically.
2. Check Resolution Configuration & Refresh Rate
Before starting your display, check if the resolution of your Asus monitor is set lower than your graphics card. Match the resolution configuration so that the graphics card can support the monitor. Check your refresh rate as well.
3. Reset Your Monitor
Resetting your Asus monitor by factory reset is the final solution to the software problem before going hardware. The reset option depends on the monitor type. We hope a factory reset will solve the HDMI no-signal problem and make your monitor run smoothly.
So, if your Asus monitor is not turning on or showing a completely blue screen, then try to reset it. To reset, press the side button beside the power button. Then it goes like this, Menu> System Set Up> More> All Reset> Yes.
Final Solutions
1. Check Your PC's Hardware
If all the above methods do not work, you need to know that the problem started from your PC or computer. Open the case of your pc and check that all components are ok and not damaged or replaced.
We recommend checking your video card, CMOS, graphics card, ram stick, and motherboard accordingly. Do not hesitate to run to your nearby service center and repair the broken part if you find any faults.
2. Some Necessary Actions
Regarding the solution we recommended, you need to perform some software and hardware actions regarding the Asus monitor HDMI no signal issue. Let's learn how:
Software Actions
| | |
| --- | --- |
| How To Update Device Drivers | How To Reset Asus Monitor |
| Open the context menu by right-clicking on the Start Menu | From under your monitor press the button beside the power button |
| Choose the Device Manager button | Choose the menu option |
| Select the Display Adapter option and get the Drivers list of the pc | Select the wrench icon to open the System Setup option |
| Right-click on the driver that you want to update | Click on the More button |
| Press on the Update Driver option | Select  the All Reset option at the last |
| Finally, select Search automatically for the updated driver software option | Now click on Yes |
Hardware Actions
| | |
| --- | --- |
| How To Reset Video Card | How To Reset CMOS |
| Unfold the case of your PC | Open your PC's case |
| Find the video card in there | Find the CMOS battery |
| Remove it and firmly place it again | Remove it gently from the motherboard |
| Or try replacing it with another slot | Wait for one to five minutes |
| Close the case properly | Set the CMOS to its place properly |
Tips:
Turn off your power switch before any hardware action
Unplug all the cables from all the devices
Do not put too much pressure on any parts
Open and close the PC case properly
Clean all the dirt and dust from the parts
Always work in a clean space & surface
You can follow what Asus suggests in this issue.
HDMI VS VGA VS DVI
We recommended connecting different cables with their ports properly to avoid issues like HDMI signal error. Now we will learn a little basic about HDMI port, VGA port, and DVI port.
| | | |
| --- | --- | --- |
| HDMI | VGA | DVI |
| Stands for High Definition Multimedia Interface | Stands for Video Graphics Array | Stands for Digital Visual Interface |
| Carries 19 pins | Contains 15 pins | Equipes 29 pins |
| High-Definition compatible colors and resolutions | RGB color (Red, Green, and Blue) | Update version of VGA resolution |
| Transmits high-definition audio/video | Sets the basic standard for color resolution | Displays a true-color palette. |
| Originated by many companies in December of 2002 | Developed by IBM in 1987 | Designed by Digital Display Working Group in 1999 |
To avoid issues like DVI no signal Asus or VGA no signal Asus, you need to connect the DVI cable with the DVI port. The same goes for VGA cable and port. Also, ensure they are inserted fully.
People Commonly Ask
1. Can The Power Supply Cause No Signal To Monitor?
Yes. A weak and interrupted power supply can cause no signal to monitor. Without proper power flow, the monitor can not get enough HDMI signal to a process and perform.
2. What To Do If Your Computer Does Not Recognize An HDMI Monitor?
Try to unplug and replug the HDMI cable to the port. Also, try disconnecting your devices from the power source. Resetting your monitor can also solve the problem in the first place.
3. Why Is My HDMI Monitor Not Working On Windows 10?
It can happen if your multimedia interface has a problem. Either the resolution of your graphics card is not similar to your monitor's resolution, or your HDMI cable is damaged.
4. How Do You Fix The HDMI Port On Your Asus Monitor?
Check your HDMI port carefully. If it has damage like a bend or crack, try to repair it at the service center. Clean the dirt and dust inside the HDMI connection properly and connect it with a new cable.
5. Should I Use HDMI Or Display port For Gaming?
You can use both HDMI and Display port connectors for gaming. But, DisplayPort supplies high definition signal than the HDMI device. It also serves better resolution and refreshes the rate balance with the graphics card.
6. Why Does Your Asus Laptop Screen Keep Going Black?
This problem happens due to a faulty graphics driver. Try to update your graphics and other device drivers. If required, you should reset the drivers, especially the graphics driver.
7. How Do You Connect Your Asus Monitor To Your Computer?
You need a good DisplayPort cable or HDMI cable to connect the devices. Connect one end of the line to the monitor's port and the other end to your PC's port accurately and adequately without any force.
8. Why does my Asus monitor say Display Port has no signal?
The most likely reason for this is that your graphics card does not support Display Port. Please make sure that your graphics card supports Display Port and that the cable you are using is also compatible.
9. How do I know if my HDMI is faulty?
Check if your monitor is displaying an image that looks fuzzy, distorted or blotchy. Also, check to see if the image changes when you move your head or if the image disappears and reappears when you change your angle. If either of these symptoms is present, it may be time to replace your monitor or your cable.
Asus Monitor HDMI No Signal Issue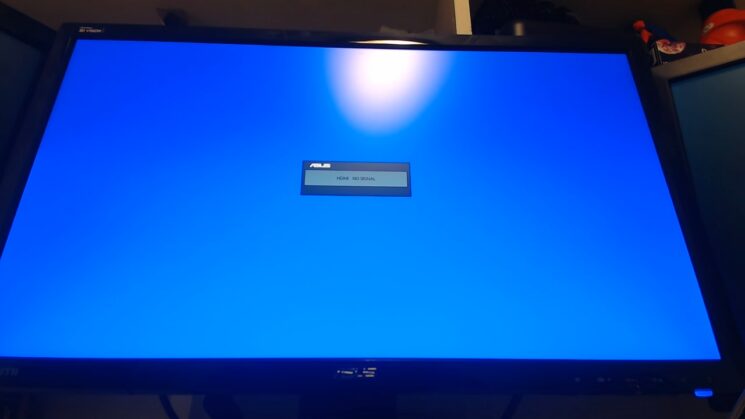 Asus monitor can stop having any signal from your pc, especially when you try to connect a second monitor. However, people with one monitor can also face this issue very often. By following our guidelines, you can solve the problem smartly.
Do not lose your temper and check for any damage in your cable, port, or any component of your PC. Turn off the running program on your pc because a corrupted program can prevent the balance between your pc and monitor.
You are having Asus monitor HDMI with no signal problem either because of software or hardware problems. Try to find out which problem your monitor is facing and follow our step-by-step solutions to prevent the issue.