Are you still using a Mac with High Sierra macOS? If yes, I am sorry to say that you are a little bit old at Apple's eye. You are not keeping up with the new versions of macOS.
Do not feel guilty about it. Many of us still use High Sierra. Those still running macOS 10.13 High Sierra are missing security and other updates from Apple.
But the question is, did Apple end the support for High Sierra? If yes, how safe is it to use High Sierra?
This article will get all the answers to the burning questions regarding High Sierra. Let's find out about Apple's support for High Sierra and what you should do with your macOS now.
What is High Sierra?
High Sierra is the codename for macOS version 10.13, which was released by Apple in 2017. It is the successor to macOS Sierra (version 10.12) and preceded macOS Mojave (version 10.14).
High Sierra introduced several new features and improvements, including support for the Apple File System (APFS), which replaced the older Hierarchical File System Plus (HFS+), and improvements to the Safari web browser, such as auto play blocking and Intelligent Tracking Prevention.
Other new features in High Sierra include support for High Efficiency Video Coding (HEVC), enhancements to the Photos app, improved graphics capabilities, and support for virtual reality (VR) content creation.
Overall, High Sierra represented a significant update to macOS with several new features and performance improvements.
A Quick Look At The macOS Versions
Before the discussion, let's look at the different macOS versions.
The table below will show you when they were released, their latest version, and their current service status.
Hopefully, you will get a current idea about macOS. Also, it will hint at some of the questions & answers for High Sierra users.
Operating system
Latest version
Release date
Current service status
OS X 10.9 (Mavericks)
10.9.5
22 October 2013
Ended

(01 December 2016)

OS X 10.10 (Yosemite)
10.10.5
16 October 2014
Ended

(01 August 2017)

OS X 10.11

(El Capitan)

10.11.6
30 September 2015
Ended

(01 December 2018)

macOS 10.12 (Sierra)
10.12.6
20 September 2016
Ended

(01 October 2019)

macOS 10.13

(High Sierra)

10.13.6
25 September 2017
Ended

(01 December 2020)

macOS 10.14 (Mojave)
10.14.6
24 September 2018
Ended

(25 October 2023)

macOS 10.15 (Catalina)
10.15.7
07 October 2019
Continuing
macOS 11

(Big Sur)

11.6.8
12 November 2020
Continuing
macOS 12 (Monterey)
12.5
25 October 2023
Continuing
Is High Sierra Still Supported? NO.
From the table, you can see that Apple no longer supports High Sierra. It means Apple has stopped providing security support and updates for this operating system.
On the first of December 2020, Apple ended up serving security support and updates for macOS 10.13 High Sierra. SCSCF has stopped providing software support for all computers using macOS 10.13 High Sierra.
Are you feeling backdated? You should be.
The following version of macOS High Sierra is macOS 10.14 Mojave. Even Mojave is no longer receiving any software updates. On 25 October 2023, Apple ended up providing security updates for Mojave.
Risks Of Having High Sierra
As it is outdated, it is surely at risk. Having backdated drivers can cause trouble to your computer. Here, having the whole operating system outdated can create more problems.
Your computer is vulnerable to viruses and malware as it no longer gets security updates. As a result, you are putting all your data at risk.
So, when you are online, you are prone to get attacked by viruses. Even the campus-recommended antivirus for Macs now doesn't have any security support.
However, the straight point is outdated operating system is not protected from malicious attacks. And you are at risk of losing your important data.
What Do The Users Say?
Positive
The users' review about still running High Sierra is quite hopeful. The primary fact is that if you are careful about what you do when you are online, you are safe.
I roamed around different forums and community sites to collect reviews of High Sierra users. Most users, from Apple Support to Quora and Reddit, emphasize your online activities.
According to most users, you can still safely use High Sierra if you are careful about the dark corners on the internet. Using a good browser and antivirus will save you from virus attacks.
Negative
All the reviews were not so good about still using High Sierra. After all, you are not getting any official security support. Also, you won't be able to use many updated software and applications.
The Advantages You Are Missing By Using High Sierra
Apart from the risk of virus attacks, you also miss some advantages. With the new version of macOS, Apple provides new updates on pretty much everything.
Also, many third-party software will not be supported on your computer if you still have High Sierra. Let's see what you are missing by running High Sierra.
Privacy Protection

Setting up apps for the first time is not safe
Few apps cause trouble even after the security & privacy pane

Security

Knows nothing about notarization
Only have the gatekeeper check

File System

High Sierra has no support for the firm links
The data backup system is too backdated and weak

Apps & Software

Software gets unsupported
Adobe & Microsoft tend to support only current released
If you look at the updated versions of macOS, you will want to update your macOS. Compare High sierra with Catalina, Big Sur, and Monterey. You will understand why I am calling you old.
Every update comes with new technology, more privacy protection, more security, an advanced file system, and more compatibility.
Upgrade High Sierra To Current macOS
You have already seen why you should not run High Sierra. Let me give you some reasons why you should upgrade your macOS.
No Security Fixing For High Sierra
In the meantime, a severe security flaw was seen in macOS. Apple fixed the problem for Big Sur, Catalina, and Mojave. But they did not fix it for High Sierra.
Apps Are Ending Updates For High Sierra
Many Software vendors are also following the path of Apple. For example, Microsoft announced that High Sierra would not get any future updates for Microsoft Office 365.
No More 32-Bit Apps Compatibility
Furthermore, Apple announced that starting with macOS Catalina, 32-bit apps will not be compatible with macOS. They are transitioning to 64-bit technology.
So, if you do not upgrade your macOS, you will lose compatibility with using the macOS.
Who Can Not Upgrade High Sierra?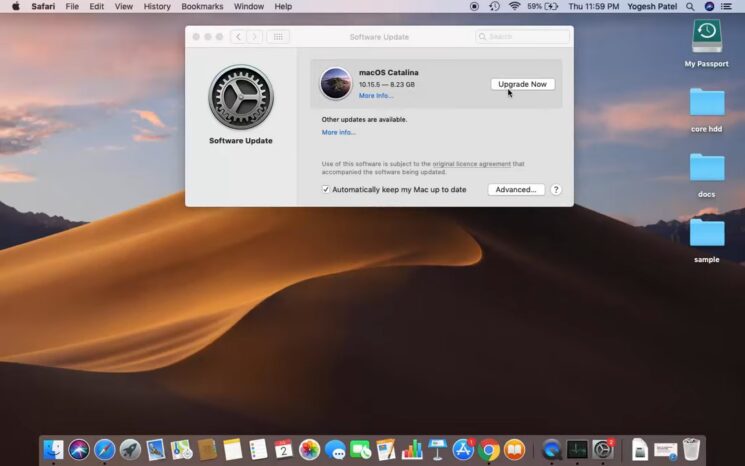 If you want to upgrade High Sierra to any current macOS, it is possible. But your computer or mac must have compatibility for the upgrade.
Apple would consider it vintage if your mac was released five to seven years ago. If they are older than seven years, Apple considers them obsolete.
You can use a Mac that can not update Catalina or others. But this disability is a sign that your mac is going towards antiquation.
Here is a list of computers that can not run Mojave or higher macOS.
Mac Pro released in mid-2010 or mid-2012
Mac mini released in 2011 or earlier
MacBook Air released in 2011 or prior
MacBook Pro released in 2011 or earlier
iMac released in 2011 or prior
How To Upgrade High Sierra To Catalina?
You can easily update High Sierra to Catalina via the App Store. Apple support has a clear guideline regarding updating to Catalina. The task is not complex at all.
Ensure a strong internet connection
Open the App Store
Go to the top menu
Select the Updates option
The recent update option will be shown
Hit on Update
The download will be started
Your macOS will automatically be updated
How To Upgrade High Sierra To Big Sur Or Monterey?
Updating to Big Sur and Monterey follows the same way as Catalina.
Ensure a strong internet connection
Open the App Store
Go to the top menu
Select the Updates option
The recent update option will be shown
Hit on Update
The download will be started
Your macOS will automatically be updated
You can follow Apple support guidelines while updating. Also, the videos below will help you to get a better idea.
Still, Want High Sierra? Do These…
Many of us still can not leave our love for High Sierra. High Sierra still gives its best for some old computer models.
So, if you want to stay old-fashioned, it is completely okay. But you have to be cautious about virus attacks. Follow my instruction to save your mac computers.
Careful About The Sites You Visit
You have to be very selective and aware of online roaming. You could be easily a victim of trojan, phishing, and other scams.
Read this article from Boston University on How to Identify and Protect Yourself from an Unsafe Website. It is really helpful.
Careful With Emails You Receive
Do not open an email without being 100% sure it is legit. Scammers are getting skilled day by day. So, you will be confused by the appearance of the emails they send.
Even if you accidentally open a suspicious email, do not click on any links or attachments with it. Send them to the trash immediately.
Use A Secured Browser
Mozilla Firefox is my suggestion. It works excellent with older versions of macOS. Also, using this browser will serve you front-line protection.
Though you won't be able to update your macOS, you can still update the browser. Adding Privacy Badger, uBlock Origin, and HTTPS Everywhere will provide extra security.
People Often Ask
Is It Okay To Use High Sierra Now?
High Sierra is an older version of macOS, and Apple has stopped supporting it. You can still use it, but you have to be careful when you are online.
Can High Sierra Be Upgraded To Catalina?
High Sierra(10.13), Sierra (10.12), or El Capitan (10.11) users can upgrade directly. Lion (10.7) or Mountain Lion (10.8) users have to upgrade to El Capitan (10.11) first.
Which Mac Is Too Old For High Sierra?
Macs that are too old to run High Sierra are those released before:
Mac Pro (Early 2008 or newer)
iMac (Mid 2007 or newer)
MacBook (Late 2008 Aluminum, or Early 2009 or newer)
MacBook Pro (Mid/Late 2007 or newer)
MacBook Air (Late 2008 or newer)
Mac Mini (Early 2009 or newer)
Xserve (Early 2009)
What Is The Following Macos After High Sierra?
The next macOS after High Sierra is macOS 10.14 Mojave. Apple released Mojave macOS 10.14 version three years ago on 24 September 2018.
When Will The Support For High Sierra End?
Apple has already ended the support for High Sierra macOS 10.13. They stopped supporting about one year and eight months ago, on 1st December 2020.
Can I update High Sierra to Monterey?
Yes, you can update macOS High Sierra to macOS Monterey.
However, you will need to make sure your Mac is compatible with Monterey. To check if your Mac is compatible, you can go to the Apple Support page and look up the "System Requirements for macOS Monterey".
If your Mac is compatible, you can update to Monterey by going to the Mac App Store and downloading the macOS Monterey installer.
Once the download is complete, follow the on-screen instructions to complete the upgrade.
Upgrading Or Staying Old-Fashioned
If you want an expert opinion, upgrading is always the priority. Keeping up with the world and technology is what we need the most now.
So, if you have a Mac still running High Sierra, it probably lost its upgrading compatibility. But those are compatible with Catalina, Big Sur, or Monterey; upgrade it as soon as possible.
Apple ended up supporting High Sierra about one year and eight months ago. So, you should not risk your data and computer.
Even after all this, you can still use High Sierra. But ensure you are browsing safe sites while online. Use extra security if needed.