In hall fashion, everyone has an Instagram account. And with the recent updates, you might also face difficulties managing it.
You might tend to change your passwords often. When you try to change your Instagram account password, you might face a problem: Instagram password reset not working. What can you do?
You can check your spam emails or your Facebook account, or the account you have connected for verification code. If it still doesn't work, you can ask your email service provider to ensure they didn't block Instagram from receiving emails.
Check the whole article out to learn more about how to reset your password on Instagram with an email or verification link.
8 Easy Ways To Solve Instagram Password Reset Not Working
1. Checking The Internet Connection
In most cases of the password reset not working, the poor internet connection is the main culprit. You can try restarting or resetting your network devices, such as the modem you are using or the router.
After doing so, you can check and try sending the reset password email again and see if it is working.
2. Update The Instagram App
Sometimes your devices, such as Android/iOS or even Windows or Mac, don't update the apps on their own.
In terms of your Android, go to the Google Play Store>Profile>Manage apps & device>Updates available>Instagram>Update.
In terms of Using An iOS device, Open your App Store>Apps>Profile>Updates available>Instagram>Update
In both cases, after updating the app, restart your device. Once restarted, you should be able to reset your old password.
3. Use The Facebook App
If you have connected your Facebook account to your Instagram account before, this way can help.
Open the Instagram app.
Search for the option "Log in with Facebook."
Follow the after instructions to log in to your account.
You can change the current password, as well as contact details too.
This is one of the ways to log in to your Instagram only if you have logged in with Facebook before.
4. Use the Incognito Mode
If you have requested to reset a new password, but the password reset link that came to your phone number is not working, you can follow it this way. Sometimes, incognito mode helps to open the links.
Copy the link that you have received in your phone number.
Open any browser on your mobile device.
Open a new incognito window/tab.
Paste the copied link
Add a new password that you wish to reset.
Save the changes
5. Use a WBT Password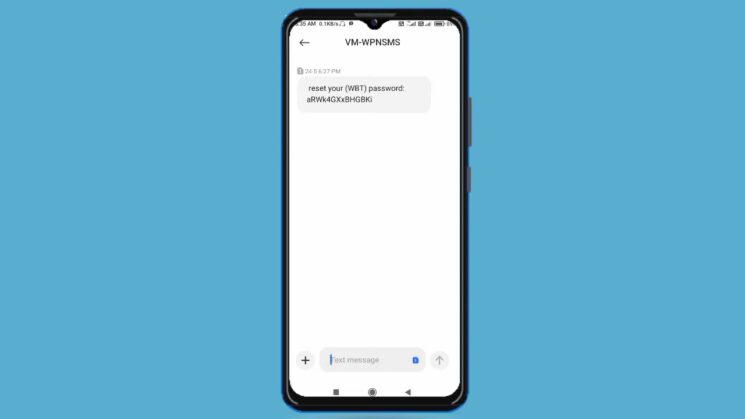 WBT password can be obtained when you open your Instagram account using a phone number. Sometimes, when you try to reset your password, Instagram sends you a WBT password on your phone as a text message instead of a reset link in the email.
Copy the WBT Password you've got
Open a browser on your device
Type and go to https://ig.me/<WBT Password>
This link will take you to Instagram's new password window.
You can give a new strong password and save the changes.
6. Use Email Address
Sometimes, you must wait for the reset password email to arrive in your email inbox. Or else, just check the email's spam folder or junk folder. These password reset emails may not come to the primary box because your email service provider sees them as spam.
How Can You Change Your Password With Email?
Open the Instagram app and go to the login screen.
Click on "Forgot Password"
Type the Username and email that you've already registered with Instagram
Click the "Next" button to continue with the process
Instagram will send you a link in your email
Browse that link, fill in the "New Password" box, and save the changes.
7. Contact Instagram Support
If all the above methods don't work, try to get help from Instagram.
Go to your Instagram account.
In the upright corner, choose the menu
Then go to settings
You will find the "help" button; click it.
And then go to the help center and type in your problem.
8. Clear Web Browser Cache
The web browser cache may also stop you from opening the Instagram password reset link successfully. To get rid of the browser cache, follow the steps below on Google Chrome.
Open the three-dot menu in the top-right corner.
Select Settings.
Tap Privacy and security.
Select Clear Browsing Data.
Select the time range. Then, check the given boxes.
At last, tap Clear data.
How To Reset Password Of Instagram Using Desktop?
Log in to your Instagram Account.
Go to Settings
Click on "Change password.
It will display a window like this one
Type in your old password and New Password
Then confirm the password.
If you don't remember your old password, click "Forgot password."
This window will pop-up
Type your email/Phone number or your username to get a password reset link
Then continue with that link and change your password.
How To Turn On Two-Factor Authentication on Instagram?
To get extra security, you can turn on Two-Factor Authentication on your Instagram Account. This will help you prevent other person's logging into your account just by your password.
Two Factor Authentication Using Mobile
Log in to your Instagram account.
Go to your profile
Go to the menu, click on settings
Go to security
Click on Two-factor Authentication
Then get started
Two-Factor Authentication Using Desktop
Log in to your Instagram Account.
Go to Settings
Click on Privacy & Security
Find Two-Factor Authentication
Then click "Edit Two-Factor Authentication Setting."
How To Reset Instagram Password Without Email, Username, Or Password?
Open Instagram on your mobile
If you are using Android, tap "Get Help Logging In"
If you are using iOS, click "forgot password?"
Click on "need more help?"
A request sheet will appear with lots of reasons. Fill it in carefully. It will be more convincing that you own that account. Instagram is more likely to give back your account if you fill it in that way.
Click "Request support" After finning in the information.
Please note that this might not help. Instagram is very serious and strict about not giving access to accounts you don't own. If you cannot give enough proof that you are the actual owner of that account, you might not get back your account.
How To Delete Your Instagram Account Permanently?
If you are wondering if you can delete your Instagram Account permanently or not, yes, you can. You can delete your IG account from the app. These steps will permanently delete your account. You will lose all posts, likes, follower counts, etc.
Open Instagram and log in.
From the settings, go to "Delete your Account."
From the menu, select the reason for deleting your account.
Now you have to re-enter the password you used to log in.
Now Tap "Permanently delete my account."
Can You Use the Same Username After Deleting Your Account?
Note that if you delete your Instagram account and then want to re-open another one with the same user name, you must wait at least 14 days. Although, after waiting for 14 days, you might lose your username if someone else takes it between that 14 days.
Frequently Asked Question
How To Recover A Permanently Deleted Instagram Account?
You cannot recover your Instagram account after deleting it with your password. It won't work if someone else deleted your account using the password. Instead, you can open a new account with your previous email account.
Why Did Instagram Lock You Out Of Your Account?
If Instagram thinks you have breached "community guidelines," they lock you out of your Account. If your account shows bot-like activities, Instagram will restrict or ban the account.
Instagram is trying hard to ensure Instagram users have the best experience. That is why they don't allow using third-party apps.
Can You Recover Your Instagram Password?
Yes, you can recover your Instagram password through the phone number, Instagram Username, or email address you provided while registering the account. Or the phone number or the email address which has been associated with it.
Can You Reactivate Your Instagram Account?
Of course, you can reactivate your Instagram account! Go to the app, and provide your phone number/email address and the password to log back in! It will simply reactivate your account!
Can You Delete All Your Instagram Posts At Once?
No, unfortunately, you cannot delete all your Instagram posts at once anymore. Please note Instagram strictly prohibits any use of third-party apps. You might lose your account that way.
Can You Log in to Instagram Without an Email Address?
You can still access your Instagram account even if you can't recall your email address' login information. But you'll need your mobile number for that.
If your cell number is associated with your Instagram account, you can ask for a fresh password reset link to be sent to your phone.
Similar to how you can visit Instagram by logging in with Facebook if you created your Instagram account using Facebook.
Why I Didn't Get the Password Reset Link?
If the email address you entered is different from the one you used to create the account, you might experience this. Even with the correct email address, if you still don't receive the link, the link may have been routed to your spam folder.
Hence, check your email's spam folder and use the link there to reset your password.
Fix Instagram Password Reset Is Not Working
I hope you have found your solutions to the Instagram password reset not working. Although there are some ways to recover your password, you should also make sure you are thinking about your security too! Use a strong password and turn on the two-factor authentication option to be tension-free about losing your account.
While using Instagram, please keep in mind that you are following the community guidelines of that social media they provided. And don't trust & use third-party apps to delete a bulk selection of your Instagram posts and pictures.