Are you in search of the best MMORPGs to play on your Nintendo Switch? If yes, then you should go through the list that has been given in the article below. Switch users have suffered a lot in the past as they faced compatibility issues and were restricted to a few games only. Now, most companies have extended their MMORPGs to the Nintendo Switch so they can enjoy it too. Read the article to know the best MMORPGs that are free and will run smoothly on your switch.
Skyforge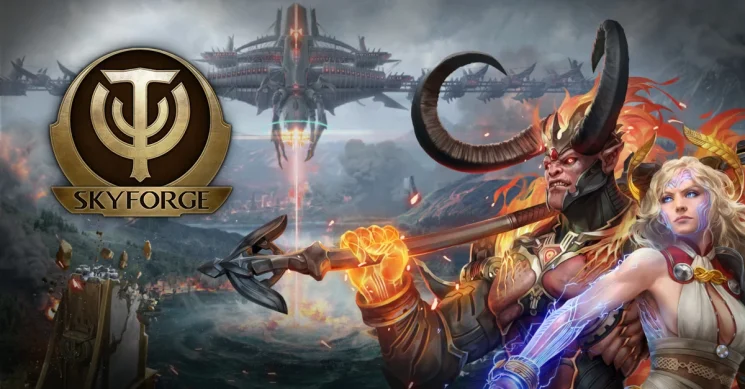 Like most online games, Skyforge also has a science fiction universe that allows the players to pretend to be a God or immortal species and fight against aliens. It is a multiplayer game that was considered a hidden gem when made available for Nintendo Switch users. This version was launched on 4th February 2023 by the Allods Team and Obsidian Entertainment.
Seventeen different classes are present and the players are given different powers as well. A hologram globe is present which will help you locate different places for completing the missions. It is completely free and has a premium mode too. Hence it is one of the best MMORPGs for Nintendo Switch and has pretty good ratings.
Dauntless
Dauntless was a super hit MMORPG and it further gained popularity when it was made available on different platforms. It is a multiplayer game that allows you to customize and have a fun-filled experience with your friends. If you are familiar with Monster Hunt, then playing Dauntless will be very easy for you. You have to hunt and use distinctive weapons to fight against the enemies. A hub town is present that provides all the ingredients and consumables required for putting up a good fight.
Warframe
Warframe is very much similar to the other games as it takes place in a science fiction universe. It was one of the first games launched for the Nintendo Switch. This is a free game that is worth all your attention. The fast shooting feature and the conflicts make the game very exciting. You have to explore planets and fight the enemies as you will end up in planetary wars. The Nintendo Switch extension for the game was released in November 2018.
You have to pass the missions and earn resources. These can help you transform and purchase new weapons and war costumes. Once you enter the game, you will be stunned by how much it offers, and that too for free. Although Nintendo Switch users got all this shooting game late, the developers make sure to update and introduce new things every year.
Temtem
Temtem is very much similar to Pokemon and now has made its way to the Nintendo Switch users. It was released by the developers in early 2023 so the switch users can play as tiny/cute creatures too. You have to move around and explore six Islands and add people to your team as a Temtem tamer. Once you become a pro, you can train other new players to fight Dojo Masters and trade different creatures. Hence it is available for free and is considered the best game for people who like playing Pokemon.
Dragon Quest X
Dragon Quest X has been available for the longest time but is only available for Nintendo Switch users in Japan. You get to play six different races and vocations that make the game more interesting. Dragon Quest X gives liberty to the users to play alone or go for a multiplayer option. It was released in July 2018 for the Nintendo Switch users and is the tenth version of the original series.
Like all the other MMORPGs, this game also involves a science-fiction universe and is free to play. You have to fight different monsters and the game uses the traditional systems till now. It is considered one of the best MMORPGs for Nintendo Switch users as you can play different characters and win the battles.
DC Universe Online
If you are into superheroes, then you would love DC Universe Online. You have the freedom to create your own heroes and the game works pretty well on the switch. It is full of action and fulfills all your fantasies as you can possess different superpowers. You get access to many episodes on the Nintendo Switch.
This can be a point of attraction for many people who use a Nintendo instead of other consoles. The players get all the perks and do not lag behind PC users. Several locations are present that can be explored while you make a team with other heroes or villains in the game. You can also play in PvP mode and fight with heroes by using superpowers.
FAQs
Are there any good MMORPGs on Switch?
Yes, there are a number of MMORPGs on Switch that are good and work smoothly. Dauntless, DC Universe Online, Skyforge, and Warframe are included in the list of the best MMORPGs for the Nintendo Switch.
What's the best MMORPG 2020?
There is a list of the best MMORPGs for 2020. Guild Wars 2, Black Desert Online, Runescape, EVE Online, and Final Fantasy XIV are included in the list of the best MMORPGs that were released in 2020.
Will Neverwinter Nights come to Switch?
Neverwinter Nights was released on 3rd December 2019 and is available on different platforms including the Nintendo Switch. The Enhanced Edition was released worldwide and all the players can enjoy playing this game with their friends using different platforms.
Conclusion
A list of best MMORPGs for Nintendo Switch is given in the article above. You can play all these multiplayer games on your switch and enjoy them like all the other gamers. These games have good reviews and work smoothly on the switch. All of the games are free and have amazing features that can improve your overall experience. Hence you can play any of these games and move up the rank in a team or as an individual.