Macintosh laptop computers manufactured by Apple Inc. are known as MacBook Pros. And most brands can't compete with this the power of the MacBook. But when it comes to i5 Vs i7 MacBook Pro, which one to choose?
The main difference between the i5 and i7 MacBook Pro is the i7's excellent CPU performance. While their performance is comparable, Core i7 CPUs provide somewhat greater power and are recommended for people running demanding apps and games at their top settings.
In this article, we will discuss all the necessary facts for i5 & i7 MacBook Pro and will ensure you find out the better and more suitable one for you. Read and finally select your own!
Overview Of i5 Vs i7 MacBook Pro
MacBook Pro Intel Core i7 Processor

MacBook Pro Intel Core i5 Dual Core

CPU / Processor
2.3GHz quad‑core 10th‑generation Intel Core i7, Turbo Boost up to 4.1GHz
2.0GHz Intel Core i5
Display
13.3‑inch (diagonal) LED-backlit display with IPS technology
13.3-inch, 2,560 x 1,600 Retina display
Storage
1TB SSD
2TB SSD
Graphic Card
Intel Iris Plus Graphics
Intel Iris Plus Graphics
Network / Connectivity Technology
802.11ac Wi‑Fi, Bluetooth 5.0,

IEEE 802.11a/b/g/n compatible

802.11ac Wi-F, Bluetooth 5.0
Camera
720P FaceTime HD camera
720p FaceTime HD webcam
Operation System
macOS
macOS
Sensors
Touch Bar with integrated Touch ID sensor
Touch Bar with integrated sensor
Battery / Power Supply
wireless web Up to 10 hours
Up to 10 hours
Dimensions
0.61 x 11.97 x8.36 inches
11.97 x 8.36 x 0.61 inches
Weight
3.1 pounds (1.4 kg)3
3.1 pounds (1.4kg)
Memory
16 GB of 3733MHz LPDDR4X onboard memory
16GB (3,733MHz LPDDR4X)
In-Depth Comparison Of i5 vs i7 MacBook Pro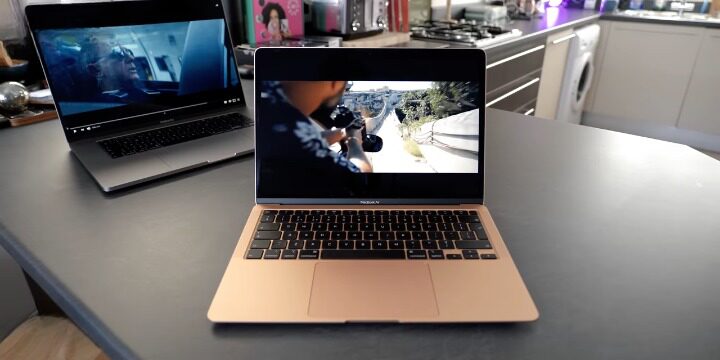 The MacBook Pro i5 and the MacBook Pro i7 feature identical specifications, other than the differences in CPU, Storage choices, and Battery performance. For this reason, we're going to analyze both of these MacBook Pro models so that you can make an informed decision. Let's get started, shall we?
Performance
Using the Intel i5-5257U dual-core CPU, I was able to run a wide range of applications quickly and smoothly.
This processor handily outperforms the competition with a clock speed of 2.7 GHz and a TurboBoost boost of 3.1 GHz.
Geekbench findings show that the i5 MacBook Pro performs better than similar-range i5 laptops from Samsung, Dell, and HP.
Because of its superior performance, it's no surprise that the i7 MacBook Pro takes the crown compared to its i5 counterpart.
The powerful Dual-Core Intel i7-5557U CPU provides a fast and consistent performance with Intel UHD graphics, which can go as high as 3.4 GHz with TurboBoost.
Gaming
No hardware or software damage will occur when playing several games on a MacBook Air.
To avoid overusing it, it should only be used for recreational purposes. If you want to play video games all day, you should avoid using your MacBook Air.
To play the games that couldn't run on the i5 basic model, we were hoping for an update to the graphics processing unit.
However, the same Intel Iris Graphics 6100 is also included in the i7 variant. I'm sorry, but you won't be getting a new graphics card anytime soon.
Design
Like its predecessor, the MacBook i5's metal frame and body remain. Even the screen size, the total dimensions, and the weight are the same. Also, there is no difference whatsoever. It has a hefty 3.2-pound curb weight.
As a result of the lightweight aluminum construction, it is portable and straightforward to transport.
The MacBook i7's chassis is the same as it was in 2017. There are just the 3.5 mm headphone jack and USB-C for communication and power in the newest generation design, available in grey or conventional silver.
Ports
You get four Thunderbolt 3 ports if you buy the Touch Bar version of the 13-inch MacBook i5 (two on the left and two on the right).
Only two Thunderbolt 3 ports are available on the left side of the non-Touch Bar MacBook Pro. The headphone jack is located to the right on this Touch Bar MacBook Pro.
The Thunderbolt ports may also be used to connect an external monitor. The USB-C connection on the MacBook Pro i7 can be used to connect external screens and other USB-C-enabled devices. Use a USB-C power adapter and cable to power up your notebook computer.
Battery Life
However, there is an improvement in the battery life. The i5 model has a battery life of up to 10 hours, while the i7 model has a battery life of up to 12 hours.
The i7 variant features a faster CPU, more RAM, and a larger battery due to the hardware enhancements. These additions significantly enhance the already impressive capabilities of the MacBook Pro.
Keyboard
According to Apple, the 13-inch MacBook Pro's butterfly keyboard, powered by an Apple i5, has the same shallow travel as prior models.
We like 1mm or more for ultraportable laptops and Ultrabooks, yet this one is just 0.6mm thick.
The same illuminated keyboard and force touchpad is included in the i7 model.
Memory and Storage
The i5 MacBook and the i7 MacBook Pro have different amounts of memory and storage. The i5 has 4GB of memory and a 120GB hard drive, while the i7 has 8GB of memory and a 1TB hard drive.
The i5 is $250 cheaper than the i7, but the latter has a faster processor and more ports.
Operating System
Apple's latest MacBooks come with a new operating system called macOS. The i5 MacBook comes with macOS Sierra 10.12 while the i7 MacBook Pro gets macOS High Sierra 10.13.
macOS Sierra is a major update to the operating system and includes features like improved Siri support, performance enhancements, and more. The biggest difference between macOS Sierra and macOS High Sierra is that the latter includes features like FaceTime Audio and iCloud Drive that are not available in macOS Sierra.
Overall, both laptops perform well with macOS Sierra. However, if you're looking for a more advanced operating system, the i7 MacBook Pro is definitely worth considering.
What Is A CPU Core?
The number of cores a CPU has shows how many jobs it can do simultaneously. Single-core processors were incapable of multitasking in the past.
Instead, they would move back and forth between high-priority assignments in seconds. It's safe to say that the performance wasn't as smooth as it may have been.
In 2005, the first commercial dual-core CPUs were released, paving the path for developing future multi-core processors. Over the next decade, processors with four, six, and eight cores became commonplace.
How Many Cores Is Enough?
Core i5-powered PCs cost less than those with i7 processors when all other factors are equal. On the other hand, if you're comparing apples to apples, the Core i5 will often have worse performance.
For multitasking, media-editing and media-creation chores, high-end gaming, and other demanding workloads, a Core i7 is often superior.
The price difference between a Core i7-powered PC and a Core i5-powered PC is often modest, so it's worth playing with the online configurator of whichever PC you're purchasing to see if you can afford it.
For software that can use as many cores as possible, the more cores you have in your CPU, the quicker it will run.
Which Core i5 Or Core i7 Processor Is Better?
In terms of price against performance, Intel's i5 CPUs fall somewhere in the middle. An i5 is more than enough for most users' day-to-day chores, and it can even compete in gaming.
The most modern i5 CPUs have 10 cores on desktop and 12 seats on mobile, with peak clock rates of almost 5GHz.
An i5 can run certain demanding apps, like Adobe Premiere, but an i7 will give you more performance boost than a lower-end gaming machine.
On top of that, the newest desktop i7s are capable of clock speeds over 5GHz. Even though you can do certain small activities with an i5, an i7 is excellent for video and audio editing.
Stick with an i5 if you want to do a lot of gaming, browsing, and dabbling with photo editing software like Photoshop or Premiere.
The i7 (or the i9, mainly if you're working with motion graphics and conducting simulations) is the best option for those who routinely use professional programs.
What about Core i9?
Intel's mainstream, consumer-oriented Core i5 and Core i7 CPUs are aimed squarely at the general public despite their high performance.
Professionals or the most wealthy gamers who require even more power are often the target audience for Intel chip higher-end Core i9 CPUs. However, by 2023, they'll be much less expensive.
Intel's 12900HK laptop CPU has 14 cores and 20 threads, making it the company's most powerful mobile chip.
It has performance cores at 2.5GHz to 5GHz and efficiency cores at 1.8GHz to 3.8GHz.
Consider upgrading to an i9 if your job necessitates the additional processing capability provided by an i7 (especially if you can get a last-gen chip on sale).
How Many Cores Do Most Gamers Own?
The most common core count is six to eight physical cores in gaming PCs.
While many games may not use all six or eight cores, it is beneficial to have extra cores to increase multitasking capabilities.
Because of the prominence of live streaming and content production, the advantages of having multiple physical cores go far beyond video games nowadays.
Does Having More Cores Help With Gaming?
It's been decades since multi-core CPUs became the norm for personal computers. The more cores you have in your PC, the better it will be for your gaming experience as technology improves.
The number of cores in current processors has increased from four to eight and beyond over the previous decade, making it possible for many new games to take full use of this increase.
Multi-core processors may help with operations like talking on Discord, broadcasting on Twitch, and editing your game captures; all benefit from multitasking.
How Many Cores Are Used By Video Games?
Eight cores or more are needed to play modern games like Battlefield 5, The Witcher 3, and The Division 2 to their full potential.
Using as many cores as feasible enhances overall gameplay quality. AAA games become better and better with features like environmental damage, lighting and particle effects, and the capacity to play 4k or even 8k resolution.
The Intel Core i9 in the Apex Xtreme is an excellent option if you're planning on gaming for a long time since it has eight cores.
Needed Cores For Streaming Purposes
A lack of physical cores may have caused stuttering or other performance difficulties when you attempted to broadcast while gaming on your PC.
When streaming, the game must be captured and re-encoded for the web, which requires a significant amount of computing power.
Different AMD Ryzen multi or Intel core processor is available for the Apex Streamer, which is designed to handle streaming and gaming for better performance.
You need at least four cores to stream alone, but six or more will give you the optimum experience.
Some More About i5 Vs i7 MacBook Pro
Is The Difference Between The I5 And I7 MacBook Pros Significant?
Intel's Haswell CPUs were first launched in 2008, and all Apple machines since then have used them, except for the Mac Pro, which is still utilizing Ivy Bridge.
For the most part, the i7 Intel processors outperform the i5 counterparts in raw processing power.
Is The MacBook Pro i5 Worth The Price Tag?
If you're looking for the best MacBook, go no further than the MacBook Pro with an i5. Low heat, longer battery life, and increased speed are the M1 max or Apple M1 chip's primary selling points (not that any user will be able to make a difference unless you are processing large video files).
Is An i5 Core Processor Sufficient?
An Intel Core i5 is an excellent starting point for the best laptop and desktops. With the 11th generation of chipsets, an i5 is a sure bet for performance.
Their processing capacity enables them to do demanding tasks such as high-end video editing, picture editing, and gaming.
What  Does i3/i5/i7 Means?
Following removing the more complicated processor codenames, below is a brief description of each of the three families: Processors with hyperthreading: Core i3. Hyperthreading is not supported on Core i5. Hyper-threaded CPUs with four cores, the Core i7.
Is 8 Gb Of Ram Sufficient For Working From Home?
Running several apps like email and Word simultaneously requires a sufficient amount of RAM. Make sure you have at least 8GB of RAM on your PC.
For a few more bucks, you can usually buy an upgrade to 16GB of RAM on most workstations.
What Advantage Of An i5 Versus An i7 Is Its Lower Pricing?
This processor is ideal for high-stress applications or Intel CPU PCs that need many resources. The i5 is more than suitable for most office jobs or surface laptop studios, and it's less costly than the Intel processor core i7 CPU. If you don't need the extra power of the i7, the i5 is a better option.
Do You Think The i3 Is Superior To The i7 In Speed And Performance?
When it comes to general computing tasks, a Core i3 multiple-core processor should be enough. Choose a Core i5 if you plan on doing a lot of picture or video editing.
If you plan to perform a lot of video editing, especially in 4K or other processor-intensive chores, consider investing in an Intel Mac Core-i7 CPU, even if it's more costly than it's worth.
Finally, Which MacBook Pro Is Ideal For Your Needs?
This is all about our i5 vs i7 MacBook pro discussion. It's important to remember that the MacBook Pro with i5 CPU is aimed at those on a tight budget who are also concerned about performance.
Those who prefer the i7, on the other hand, are likely to have more money to spend on their gaming setups. So what's the point of an i5? Because of their lower price and widespread use, they're a popular choice for laptops alike.
You may want to consider an Intel Core i7 processor if you often use software like Adobe Suite or play high-end games.