If you are a pc gamer, you often get suggestions to turn off your g-sync. It may seem to you that g-sync is some sort of virus or malware that can harm your pc or gameplay. But actually, g-sync is an advanced adaptive synchronizing technology that improves your network latency and screen experience.
Then why do people talk about disabling or turning it off? In this article, all the confusion regarding g-sync will be removed. We will learn how to disable g-sync, how to verify the process, the issue with it, and other necessary information and guidelines concerning g-sync.
What Is G-Sync?
Whether you are tech-savvy or not, you must have heard about Nvidia. Nvidia Corporation is a famous American multinational technology company. They continuously design advanced graphics processing units (GPU) for both gaming and the professional market.
G-sync is a result of Nvidia's advanced technology for gamers and professionals. It is an exclusive adaptive sync technology developed by Nvidia. This display technology is meant to update your monitor or tv and give you a premium screening experience.
According to Nvidia, Nvidia g sync features, no tearing and stuttering. The users of the g sync monitor won't be getting any input lag as well. It develops realistic images and provides a range of variable refresh rates (VRR). Also, its variable overdrive offers fantastic gameplay.
The Process Of How To Disable G-Sync
You can simply disable g-sync by following some easy steps.
Firstly, you have to right-click on your desktop. You will find the "Nvidia Control Panel" option from the menu. Click on that.
Secondly, you have to click on the "+" sign next to Display.
Thirdly, you need to select the option "Set up G-Sync" from there.
Finally, all you need to do is, uncheck the box, which you will find next to the "Enable G-SYNC" option.
See how simple that is! Anyone can disable their g-sync option from Nvidia settings by following these steps. It will not take more than 10 seconds to turn off g-sync on your pc. The picture below will help you more to get the idea.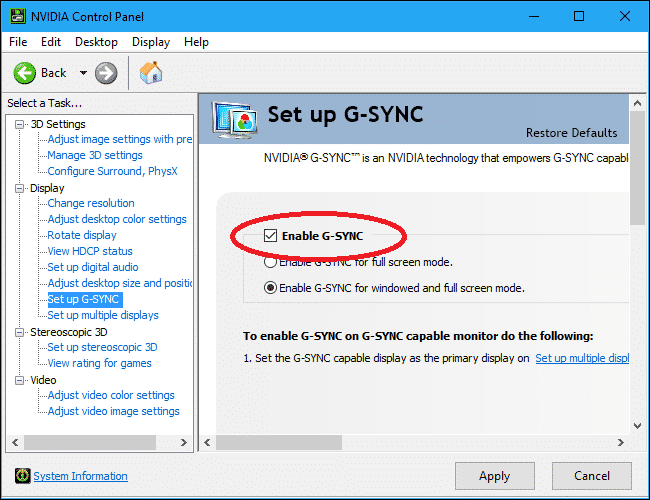 You can also disable or turn off your g-sync for a fixed or specific application. Let us show you how:
Go to Nvidia Control Panel on your desktop.
Select Manage 3D Setting.
Now go to Program Setting from there.
Find Monitor Technology option.
Now finally, choose the option Fixed Refresh.
The picture will be a help in that case:
Disable G-Sync For Specific Games
G-Sync may not affect the module, but it will provide a higher resolution. It is thrilling for gamers. But, it can also cause trouble. It may slow down the speed of the game you are playing.
Most pro gamers do not find G-Sync worth it. Just for having a higher resolution, you may lose a faster refreshing rate, quality panel, and overall better gaming experience.
Let's see how you can disable G-Sync for any specific game.
Go to Nvidia Control Panel
Find Manage 3D Setting
Press on the Program Setting
Find the certain game application
Go to the Profile of that game
Turn off G-Sync from Monitor Technology
Verifying G-Sync Is Disabled
However, you may have doubts about g-sync being correctly turned off or not. You can verify that as well by taking some measures. Let us show you how to do that by yourself.
You need to turn g-sync off in Manage 3D Settings.
Start scrolling down to Vertical Sync and find the "G-SYNC" option.
Make sure it has the Nvidia logo next to it.
After finding the option, you must select it and drop it to the "Let the Application Decide" option.
Now click Apply button to finish the process.
There is another way to verify whether g-sync is off or running. Just follow the instructions.
First, you need to open Nvidia Control Panel.
Then click on Display from the panel.
Now you have to select the Show indicator for G-SYNC.
You will see an indicator light telling you whether g-sync is running or not.
Editor's Note: Lenovo Yoga Not Charging
Why Would You Consider Turning G-Sync Off?
From the description of g-sync, we are sure that it is an exciting technology. At the same time, you wonder why people suggest you disable g sync even though it gives you a realistic and jam-free screening. Let us remove your confusion.
Needs Higher-End Graphics Card
The g-sync does not work with primary AMD graphics cards for being a proprietary technology. You will need a graphics card with higher-end compatibility and fast sync. To take advantage of g-sync, you have to use a powerful Nvidia graphics card like, GTX 10 series and GTX Titan Black.
Requires A Lot
Besides requiring a compatible GPU, this display technology needs a g-sync enabled or Optimus capable device. It is tough to find any laptop with both technologies available in the market. It also requires a high capacity of storage, speed, and additional hardware.
Expensive And Addictive
Apparently, you have to pay extra cost for having smooth g-sync enabled screening as it requires a powerful graphics card and g sync-compatible monitor. Also, you can be addicted to a high-performance pc and an outstanding image experience. It will make you unable to work with other devices.
Affects FPS
Generally, g-sync limits the FPS to 140. This means you can not use your max FPS. Suppose you have 300 FPS. Since you are limiting it, this will create around 3-4ms input lag. Having a monitor of 144hz and playing a game with more fps than that will make g-sync turned off.
So it can be said that g-sync is not for casual users instead of intense gamers. It is more of a luxury to have a better screening experience. That is why maximum users suggest turning off your g-sync.
What To Expect When You Disable G Sync
G-sync is mainly here to increase your screenplay. If you want a sharp image quality, realistic view, smooth speed, then g sync is for you. But as you are reading this article, it means you are actually thinking about turning it off.
By turning off your g-sync, you can be sure that you are not missing out on any significant advantage except a slightly better screenplay. Your pc or GPU will run as it usually does with a compatible monitor refresh rate and framerate. It will not try to be compatible with g sync, and that is all.
It means you will not be having any improvements in your graphics or any fast sync. Neither will you have any side effects on your variable refresh rate because of disabling it. Your gameplay experience and screen mode will be average like other monitors without extraordinary visuals.
How To Turn G-Sync Back On
What if you change your mind about turning off your g-sync system? If you want to turn back on your g sync module after disabling it, it is as simple as turning it off. Just follow the steps:
Firstly, right-click on the desktop icon of your pc.
Secondly, select Nvidia Control Panel from the menu.
Thirdly, in the sidebar, you to expand the Display option.
Now press on the option Set up G-Sync.
Lastly, check the box which is next to Enable G-Sync option.
This is how you can enable g sync option again. You also will get the chance to choose where you want your g-sync to be enabled. The options available for you are only for full screen and full screen with windowed mode.
You need to remember that if you have an official g-sync monitor, your g-sync system should be on by default. If you are not using any monitor like that, you need to turn on the g-sync yourself.
Read More: reCAPTCHA Not Working Safari
How To Disable FreeSync
FreeSync is a VESA's adaptive-sync technology. It helps the monitor to remove screen stuttering and tearing. But you need to have a variable refresh rate and compatible graphics card.
If you do not have a compatible graphics card, you better turn off the FreeSync. Without a low range refresh rate, FreeSync does not work properly. It will create input lag.
Let's see how you can disable FreeSync.
Firstly, open the Radeon setting menu
From the menu, click on the Gaming option
Find and select the application you desire
Find AMD FreeSync option
Lastly, turn off the switch button
People Often Ask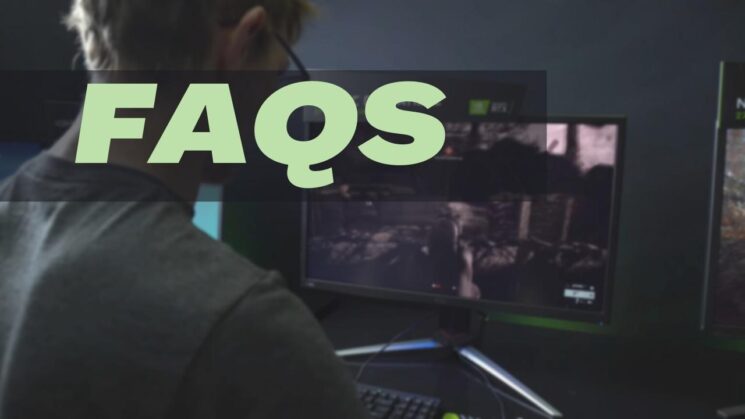 1. Does G-Sync Worth It?
G-Sync is worth it if you can afford an Nvidia GPU. Also, if you are looking for a high-end monitor with a high refresh rate, g sync compatible monitors are perfect for you. With g sync support, you will be experiencing fantastic gameplay and screenplay.
2. Should G-Sync Be Turned Off?
You should turn off your g-sync if your monitor or pc does not have a high-end GPU. Also, it is expensive, addictive, requires other costly hardware, and needs lots of space and speed, which is impossible to have in affordable computers.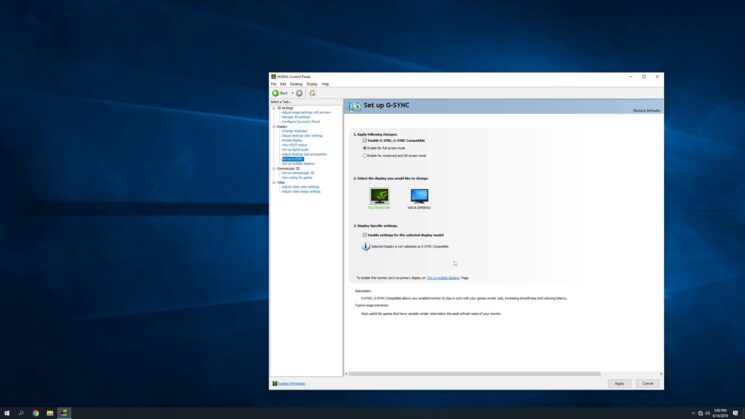 3. Is G-Sync Good For Call Of Duty?
Call of Duty is optimized for the highest possible FPS where g-sync only develops individual demonstrations. When a gaming monitors, refresh rate, and frame rate try to sync, input lag and screen tearing and input latency might happen. This will create a negative impact on performance.
4. Is G-Sync Good For Valorant?
So, is G-Sync good for Valorant? The short answer is yes! G-Sync can definitely help improve your gaming experience in Valorant. Here's a more detailed look at how G-Sync can help you in Valorant:
Reduced Screen Tearing
Screen tearing can be a major issue when playing fast-paced games like Valorant. If you've ever experienced screen tearing, you know how annoying it can be. Thankfully, G-Sync can help eliminate screen tearing by syncing the frame rate of your monitor with the graphics card.
Improved Gaming Performance
Another benefit of G-Sync is improved gaming performance. If you're looking for a competitive edge in Valorant, G-Sync can definitely give you that extra boost you need. G-Sync can help reduce input lag and make your games run smoother overall.
Better Visuals
In addition to improved performance, G-Sync also provides better visuals. This is because G-Sync eliminates screen tearing and stuttering, which can lead to a better visual experience overall.
5. Does Turning Off G-Sync Affect Pc Performance?
No, it does not. Turning off g-sync means you will not have excellent picture quality. It does not affect your regular GPU performance at all. Your pc will be running fine like other variable refresh rate monitors. However, You can turn it off manually without any trouble.
What Is The Alternative Of G-Sync?
FreeSync can be an alternative to g-sync. It is compatible with an AMD graphics card and AMD GPU. It is a cheaper version for AMD users to have a good graphics experience in the FreeSync monitor. It is open-source at a lower cost for the consumer without any special license or chip.
To Conclude
It can be said that g-sync is undoubtedly an advanced technology for the current user of multiple monitors to give you an outstanding visual experience. Questions regarding turning it off arise when one finds that it is nothing but a luxury to the casual users.
However, this article is enough to learn how to disable g-sync. In addition, you got to know about g-sync and get the answers you need concerning g sync. We hope our guideline will help you turn off and on g-sync manually without any trouble.