Imagine you are playing Dark Souls, and you are about to beat the nameless king, and out of nowhere, your PC shuts down. After all that effort, all you have to show for it is smoke. Well, if you do not want your gaming system to overheat again, you better be getting the best 360mm AIO that you can find!
As a gamer or even a professional who needs to run sophisticated software, you need to keep your PC cool for as long as possible. But that also means buying different gadgets to create a perfect system.
That process might be very expensive for some and time-consuming for others. For such consumers, an easy solution is to get an all-in-one cooler.
The next question you might have is where to get this product, and for that, we are here! From our list, you will certainly find an amazing system, and we also tried to answer other related questions that you might have.
Best 360mm AIO Cooler Comparison Table
In this chart, you will find some crucial information about each product to easily compare them.
| | | | | |
| --- | --- | --- | --- | --- |
| Product | Noise Level | Weight | Sleeve Tube | RPM |
| Corsair iCUE H150i RGB Pro XT | 25 dB | 2.43 pound | No | 400-2400 |
| NZXT Kraken X73- RL-KRX73-01 | 21 dB | 5.02 pound | Yes | 500-2000 + 300 |
| Cooler Master MasterLiquid ML360R | 30 dB | 3.7 pound | Yes | 650-1800 |
| Thermaltake TH360 Cooling System | 32 dB | 5 pound | Yes | 500-1500 |
| DEEPCOOL Captain 360EX RGB White | 17.7- 31.3 dB | 4.73 pound | No | 500-1800 |
| ARCTIC Liquid Freezer II 360 | 24.5 dB | 3.81 pound | Yes | 200-1800 |
| ASUS ROG Strix LC | 37.6 dB | 5.79 pound | Yes | 800-2500 |
 List of the Best 360mm AIO Reviews
This is the section where the main fun starts, and we will talk all about the individual specifications of our favorite products here.
1. Corsair iCUE H150i RGB Pro XT
Key Features:
An RGB LED setup with 16 variations
Offers improved airflow for superior cooling
Operates at 25 dB noise level
Works with multiple sockets from different brands
Features a thermally charged cooling plate
Product Specifications
| | |
| --- | --- |
| Cooling Method | Water |
| Noise Level | 25 dB |
| Fan Speed | 400-2400 RPM |
| Temperature Under Load | 65.73-degree Celsius |
We are a sucker for products that are multi-purpose, and when we found the AIO from Corsair, we were floored. This model not only has an amazing cooling system but comes with an entire LED system. So, your gaming space can look as moody as you want with this Corsair iCUE H150i RGB Pro XT.
The 16 variations are completely customizable based on what game you are playing or the kind of work you are doing. Now, the product also comes with a cold plate which is thermally optimized to keep the CPU cooler for longer.
Besides that, the powerful fan known as the magnetic levitation fan runs at a speed of 400 to 2400 RPM! Talk about speed. With such force, the CPU is bound to stay level-headed. At the same time, to eliminate noise, it has a Zero RPM cooling feature.
Finally, we would want the system to be compatible with many devices so that users with different desktops and sockets can use it. Luckily, this AIO does not only adjust to the temperature of the monitor and CPU but also works with different sockets!
You can get an Intel LGA or an sTRX4, and the product will work. However, do check the box to know the full compatibility range.
2. NZXT Kraken X73 360mm – RL-KRX73-01
Key Features
It comes with nylon mesh and rubber tubes for installation
10% bigger mirror ring
Boasts dynamic bearing for silent 21 dB operation
3 120mm radiator fans
Offers sophisticated control with CAM integration
Product Specifications
| | |
| --- | --- |
| Air Pressure | 0.18 – 2.93mm-H2O |
| Cooling Method | Fan |
| Noise Level | 21 dB |
| Air Flow Rate | 18.28 – 73.11 CFM |
A big part of the gaming setup process is the installation of different parts, and sometimes it can be annoying. Either the product is too heavy for the tower, or it simply does not have all the bits and pieces for attachment. However, NZXT removes all those issues with their best 360mm radiator.
It's one of the easiest products to install and comes with long rubber tubes and swivel heads for comfortable adjusting. Besides that, it is also compatible with multiple sockets and CPUs, such as the Intel Socket LGA series or the 2066 / AMD Socket AM4.
Now, just having it easy does not cut it. You want the cooler to do its job, and the Kraken certainly succeeded in keeping the temperature below 50 degrees Celsius while performing at 4.2 GHz. The radiator fans with a chamfered intake certainly help with the process.
It also keeps things quiet with the dynamic fluid bearing. Finally, if you are into the RGB lighting gang, then this product will not disappoint. It has CAM integration for more sophisticated operations.
Moreover, you will get more vivid colors thanks to the mirror caps, which are 10% bigger. Thus, it will feel like you have been directly teleported into the mystical gaming world.
3. Cooler Master MasterLiquid ML360R
Key Features
Dual-chamber and double FEB tubes prevent leaking
It features mirrored pump heads
Equips liquid cooling along with fans
Supports different CPU sockets
Has a 66.7 CFM
Product Specifications
| | |
| --- | --- |
| Air Pressure | 2.34 millimeter H2O |
| Air Flow Rate | 66.7 CFM |
| Noise Level | 30 dB |
| Cooling Method | Water |
Nothing is worse than dealing with a leaking cooler that cannot do its job. Rather it becomes an added hassle to continuously replace or adjust the settings. So, if you are pissed with such products, try the Cooler Master one.
It has amazing engineering that gives you a dual pump chamber and high-quality FEP rubber tubes. Thus, the liquid cooling functions within the tube, and there are minimal chances of leaking. Of course, all of these happen while the fans are also doing their job.
So, the unit receives amazing cooling from 3 adjacent 120 mm fans. These fans function with a pressure unit of 2.34 millimeters H2O. Along with the large aluminum surface, this item is pretty successful in keeping the system cool.
Now, the cool bit about the fans is the mirrored pump heads. The RGB colors bounce from the pump heads, and it creates a unique look for the setup. But you should know that the colors will only be limited to the fan and pumps.
This device is also easy to install, and you will not have to go the extra mile to get additional tubes. Moreover, it comes with a very comprehensive guide to help you understand the step-by-step installation process.
4. Thermaltake TH360 Cooling System – Best for Budget
Key Features
400mm tube and a low-profile pump
Offers control through motherboard software
Different colors and preset modes
Effective cooling baseplate and liquid
Lighting present on pumps and fans
Product Specifications
| | |
| --- | --- |
| Air Flow Rate | 59.28 CFM |
| Noise Level | 32 dB |
| Fan Size | 120mm |
| Cooling Method | Water |
Along with the fan and liquid, you want the radiator to have sufficient surface area. Why you may ask? Well, that is because a large surface area will encourage heat dissipation. That is exactly what you will get in the TH360 by Thermaltake.
It has a 360mm surface area, which works with a copper plate at the base region. Both of these combined block heat buildup and keeps the system under control. Another feature that keeps the temperature down is the constant water circulation.
The model comes with a 400mm tube length that supplies circulation, and it also reduces the need for constant refills. Additionally, the LEDs are connected to the pump and fan.
But the cool part is that you can control the ARGB radiations with the help of the motherboard. It will come with software that enables synchronization with Gigabyte, ASUS, MSI. Plus, the CPU and socket compatibility makes it even more versatile.
This is fantastic news because users get to experience 16.8M glorious RGB color lumination and control seven different modes! You can change eight different presets, speed the light, and create the perfect mood for any game.
5. Best for Durability: DEEPCOOL Captain 360EX RGB
Key Features
Features very sturdy explosion-resistant tubes
Pumps have glass visuals
Two LED strips with the RGB water block
Double-blade TF120 fans along with liquid cooling
Copper plate with thermal compound
Product Specifications
| | |
| --- | --- |
| Fan Size | 120mm |
| Cooling Method | Water |
| RGB Header | 12V 4-pin |
| Noise Level | 17.6~31.3dB |
Sometimes the rubber in the cooling system can explode or sustain considerable damage from the excessive heat. So, we tried the DEEPCOOL all-in-one cooler to get rid of such issues because this brand offers supreme quality parts.
The liquid cooling system has high-density pipes that are also anti-corrosive. Thus, water or any other chemical in the coolant cannot inflict any harm on the system. Consequently, it should stay stable for a long time. Besides that, this model has another unique feature that includes the patented pump.
This unique pump combines RGB light and clear vision glass to show the liquid circulation. On top of that, the pump is powerful and works with a thermal copper plate. It will ensure that the CPU is not getting heated up. The copper plate has the thermal coating pre-applied.
Along with that, the rest of the installation is pretty mess-free as well. It also supports a wide range of models such as the Intel LGA20XX and subsequent series, and AMD. Besides water cooling, it also has PWM fans that are 120mm.
The fans are double-bladed and hence offer a very silent operation. Also, the wide radiator and the fan definitely improve heat minimization. Additionally, you also get two LED strips that can be controlled with the motherboard software.
6. Best for Energy Saving: ARCTIC Liquid Freezer II 360
Key Features
80% less power consumption
Boasts high-quality sealed tubing and fan cables
Features a low-voltage regulator
Sports dynamic liquid bearing
Powerful pumps reduce noise
Product Specifications
| | |
| --- | --- |
| Tube Length | 450 mm |
| Cooling Method | Water |
| Fan Size | 120mm |
| Noise Level | 24.5 dB |
The counter-productive aspect of coolers taking up more energy trying to stop the CPU from heating is sometimes funny. But most of the time, there is no other way, as the entire cooling system has to draw a lot of energy to do its job.
Hence, if you are keen on saving a little bit more energy, we would recommend the ARCTIC one. It manages to consume 80% less power while still using a radiator, fans, and a liquid cooling tube. However, the reduction is possible as the device functions at full load.
It utilizes 0.7 W at no load and 3.4 W under maximum load. Additionally, it uses a sophisticated water pump that helps with water circulation and makes sure that the entire process happens silently. Thus, you can focus on your game and its surround sound rather than the machine's humming noise.
However, an issue that might discourage some players is the complete lack of RGB LED. The pump of the three fans does not feature the colorful lights that so many users love. You can install them separately, though. But the model makes up for this loss with its high-quality EPDM tubing.
It will ensure that the water stays within the loop and does not leak here and there. Moreover, the PWM cables of the fan also have sleeved tubings. All in all, this will be a very low-maintenance product.
7. ASUS ROG Strix LC 360 RGB AIO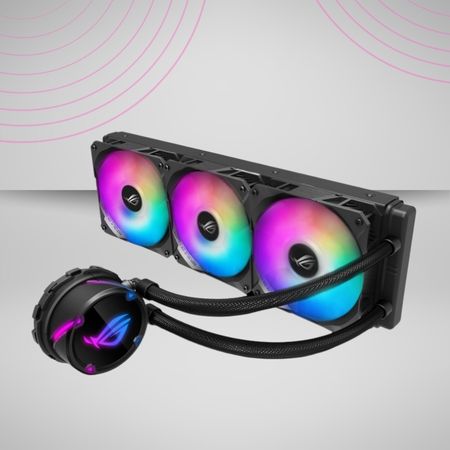 Key Features
Incorporates both fan and liquid for cooling
Comes with an RGB setup
Syncs with ASUS Aura
Works with numerous sockets
Equips sleeved tubings for extra protection
Product Specifications
| | |
| --- | --- |
| Noise Level | 37.6 dB |
| Fan Size | 120mm |
| Weight | 5.79 pound |
| Cooling Method | Fan, Liquid |
Never face another heated session with your CPU, whether you are playing a very heavy game or running a big software. This model by ASUS is at the top tier for AIO coolers, and it comes with even cooler features.
For example, the product can sync up with the ASUS Aura to give you a full range of RGB colors on the fans. Using the same software, you can also control the fan and the pump to your game's load. What this will do is let you swap between the cooling modes.
Thus, users can run a more effective cooling session without exhausting the device. Moreover, the radiator fans themselves are a force to be reckoned with. The airflow is optimized and offers a static flow that keeps things stable and reduces noise levels.
Consequently, the machine operates at a 37.6 dB noise level. However, to obtain a device that cools through both fan and a liquid means you will have to shell out some extra money, but it will be worth the spend.
That is because you are not only buying compatibility with sockets and superior power, but also amazing looks. Besides the RGB setup, it also comes with NCVM coating on the pump which provides a premium look!
What to Look for Before Buying A 360mm AIO?
Do not get dazzled by the blinding lights only; there are other factors to check too! And we will be talking about those here.
Cooling Method
The 360mm AIO liquid coolers that work with water are usually the common kind. However, the cooling method can actually be different based on fans and radiators as well. Typically, radiators are present in every cooler, but you need to check whether the device works predominantly with water or just a fan.
If it uses liquid to work, then make sure to check the pump and tubes. You do not want faulty and leaky tubes that will stop working after some time. On the other hand, the number of fans will be quite visible, but you can still check the size to be absolutely sure of the power each fan will provide.
Size
People might get so overwhelmed with the technical aspects of this product that they can forget about the size and weight of this cooler. However, if you already have a preexisting setup, it will be crucial to find a model that fits the cabins or the gaming tower.
But if you are making the setup from scratch, then get the best 360 AIO cooler, and you will not have to worry much about this factor. But do keep an eye on the weight of the device. Too much weight might lead to the tower collapsing. It can even cause problems with portability.
Compatibility
There are various factors here to check. First of all, check whether it works with your desktop system and CPU sockets. The boxes will usually specify the models the cooler is compatible with. Besides that, if there are controls present to change the LED or fan speed, it should be functional with your desktop as well.
Noise
Coolers will make noise, and there is no way around it. However, if you manage to get your hands on the best CPU AIO, then there is a possibility that the noise will be bearable.
Besides that, you should know that these products usually function within the range of 17 dB to 30 dB or more. So, if you found a model you love and the noise is within this range, we would tell you to go for it.
Moreover, checking for superior quality pumps will also ensure a smooth circulation that would, in turn, reduce noise.
Radiator Size
The size of a radiator is one of the most important factors to consider when buying an AIO cooler. The bigger the radiator, the more heat it can disperse. However, if your computer is not well-configured for an AIO cooler, the extra heat could cause problems.
Before buying an AIO cooler, make sure to check out the dimensions of your computer's motherboard and processor. If you're not sure how big a radiator to buy, start with a smaller size and upgrade as needed.
Software
Many people think that buying an air cooler is the same as buying a computer cooler, but this is not always the case. When shopping for an air cooler, be sure to consider the software that it will be used with. Make sure that the software is compatible with the air cooler before making a purchase.
Some air coolers come with their own software, while others require that you install a separate program. If you are using an air cooler with a pre-existing computer system, be sure to check to see if the software is already installed and compatible. If not, you may need to purchase and install the program.
Fan RPM
If you're looking to buy an air cooler, there are a few things you should consider first. One of those is the fan RPM. While most air coolers come with either high or low-RPM fans, it's important to know which one is best for your system.
The higher the fan RPM, the faster the fan will spin. This can result in better cooling performance in cases where the GPU or CPU is heavily loaded. However, high fan RPMs can also be noisy and create excessive heat. So if noise is a concern, go with a lower RPM fan.
On the other hand, low RPM fans are usually less noisy and generate less heat than high RPM fans. However, they may not be as effective at cooling your system as a high RPM fan would be. It all comes down to what you're more concerned about – noise or performance.
Overview for 360mm AIO.
Find what our favorite models are best at, and that should make it even easier to choose from a wide list.
1. Best for Control: Corsair iCUE H150i RGB Pro XT
It comes with a control system to manage 16 lights, a fan, and pump speed.
2. Best for Easy Setup: NZXT Kraken X73- RL-KRX73-01
You will get pre-installed thermal plates, nylon mesh, and rubber tubes for the easiest installation.5
3. Best for Power: Cooler Master MasterLiquid ML360R
A sophisticated leak-proof system and high-pressure handling fans that work for maximum power production.
4. Best for Budget: Thermaltake TH360 Cooling System
It offers versatility at an affordable price.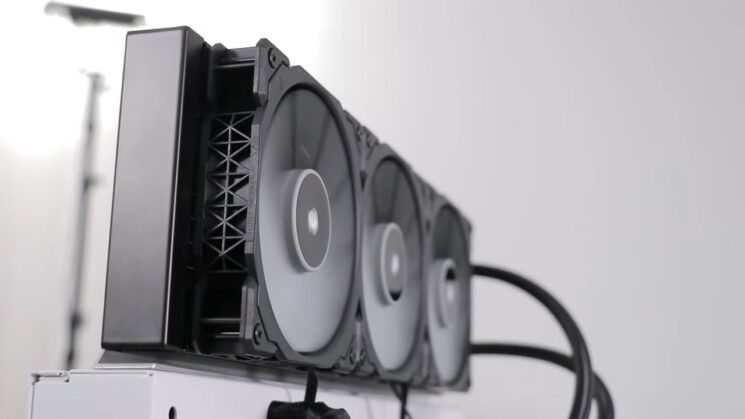 5. Best for Durability: DEEPCOOL Captain 360EX RGB White
You will get corrosion, leak, and explosion-proof parts for extreme durability.
6. Best for Energy Saving: ARCTIC Liquid Freezer II 360
By working with a full load, this device offers up to 80% less energy consumption.
7. Best for Longer Use: ASUS ROG Strix LC
It has a liquid cooling mode and fan cooling that works interchangeably to give longer cooling sessions.
Frequently Asked Questions
1. Do I need to change my AIO coolers frequently?
If there is a visible leak in the rubber tubes or the cooler is making too much noise, then it might be time to change.
2. Are water coolers quieter than traditional fans?
Yes, water coolers are quieter than traditional external fan arrangements or other air coolers.
3. Will the 360mm AIO coolers come with LEDs?
It will depend on the brand and the model, but typically they do come with a full RGB setup.
4. How do I maintain the 360mm AIO?
The main maintenance is basically dusting the fan and radiator. You should do this periodically to make sure that small dust particles do not start piling up inside the cooler.
5. Can I control the fan speed in an AIO cooler?
Yes, if the model comes with sync options and controllers, you can change fan speed, adjust the pump's motion, and control LED colors.
Final Words
We stopped dreaming and started playing for long hours, thanks to the best 360mm AIO. Now, you can do it too if you simply take some time to find the perfect cooling system for your setup. However, our top pick is easily the ASUS ROG Strix LC 360 because of its dual cooling mode. It never fails us.
But if you are tight on budget, and do not mind having a colorful LED setup, then pick the ARCTIC Liquid Freezer II 360. It saves energy and gives amazing output! With all that done, we wish you the happiest and most thrilling hours.
Happy gaming!