When it comes to powering vital appliances on the move or during a power outage, a powerful tri fuel generators provides the utmost in convenience and preparedness.
Unlike dual fuel generators, which can only run on gasoline or propane, tri fuel generators can also run on natural gas.
That's significant in an emergency power loss, and not just because it adds a third fuel alternative to your generator's arsenal when gasoline or propane are scarce. Many homes already have built-in natural gas lines that continue to function even when the power is turned off, so your tri fuel generator can tap directly into that nearly infinite supply of fuel.
Furthermore, because they provide such versatile fueling, tri fuel generators are just more convenient. You can use gasoline or propane if you need to take the generator on the road, such as on a road trip. Nevertheless, if you use the generator around your home's yard, you may reconnect to your natural gas line and never run out of fuel.
So, what makes dual fuel generators more popular than tri fuel generators?
One of the primary reasons is that tri fuel generators are more expensive. If you're not concerned about a power outage or don't already have a natural gas connection coming to your home, the extra money may not be worth it.
Another reason is that natural gas is the least efficient generator fuel since it contains little energy. As a result, most tri fuel generators produce less wattage when powered by natural gas than when powered by gasoline or propane.
However, if your property has a natural gas line, don't be put off by the higher price or reduced wattage. A tri fuel generator is still one of the finest methods to prepare for an emergency, and you may still profit from using propane or gas to power it. Also, natural gas is less expensive than propane or gasoline.
With that in mind, let's take a look at my personal favorite tri-fuel generator
Best Tri Fuel Generators
1. Firman H07552 7500W Running/9400W Peak Tri Fuel Generator
Firman's H07552 is a tri-fuel gennie with 7500 running watts that can operate continuously for 12 hours at half load. That's more than enough to keep your home operating in an emergency or as a backup for a company owner in the event of a power outage!
On its tiny, well-organized control panel, you'll discover five AC outlets: twin 120V, 20 amp GFCIs; 1x 120/240V 30A; 1x 120/240V 50A; and 1x 120V 30A L5-30R. The twist lock L1430R is particularly beneficial for connecting it to your breaker box.
A 3 in 1 Data-Minder display, which monitors useful information such as voltage, frequency, and hours in operation, is also included on the panel. The convenient gasoline selector switch allows you to rapidly switch between the various supply types.
It's significantly quieter than some of the competing devices, rated at around 74 dB; but, although being touted as portable due to the attached wheel kit, it's not actually that easy to relocate, considering its large 212lb weight.
An inbuilt automatic shut-off function when low oil is detected, as well as an internal circuit breaker system to safeguard you and the device in the event of a power outage, are among the safety features. Employ the Firman in your house with complete confidence!
Pros
Five AC outlets to choose from – a versatile range
Electric starter and conventional pull-start mechanism, batteries included
EPA approved, CARB compliant – legal in all 50 states, including California
Cons
Not recommended for use with sensitive electronic devices (has a high Total Harmonic Destruction rating of <25%)
2. Winco HPS12000HE Tri-Fuel Portable Generator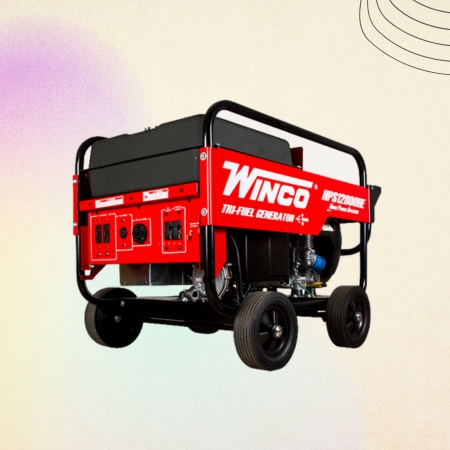 Winco's electric start tri-fuel generator is a portable type that switches on with the turn of a key, so you'll be up and running in no time – a battery rack and cables are included with the purchase.
An industrial grade, high quality Honda V-Twin 4-Cycle engine employs an OHV design to provide maximum power transmission and above-average efficiency. It's a highly adaptable unit when combined with a tri-fuel carburetor and gas regulator.
The engine is immediately shut down if the oil level reaches an inoperable or unsafe level, thanks to Honda's proprietary Oil Alert warning system, ensuring no engine damage as a result of overheating.
A capacitor-regulated voltage protects the 120/240V 30 amp and 60 amp receptacles, providing for less than 5% Total Harmonic Distortion (THD) – this keeps any sensitive equipment safe from a power surge.
Џ
This tri fuel generator connects easily to the L13-40 outlet, which provides for easy connection with a manual transfer switch. Overload protection is additionally provided with a 45 amp mainline circuit breaker.
Pros
EPA approved, 15-gallon steel fuel tank and gauge – carbon emissions are completely eradicated
Steel gauge cradle with protective powder coat finish and a four-wheel flat free dolly makes it incredibly portable
100% lead tested prior to shipping
Cons
Can only be started using the supplied electric system – not suitable for modifications
3. Hutch Mountain Tri-Fuel Generator Conversion Kit
The Hutch Mountain tri fuel generator conversion kit ensures you have power when you need it most by allowing you to choose between three fuel options: natural gas, gasoline, or propane. In an emergency, be prepared!
By choosing clean propane or natural gas over gasoline, you can ensure your fuel has an infinite shelf life and avoid clogged carburetors – this kit uses the original Honda EU no-drill method, and the carburetor is not drilled or modified in any way.
As the only kit available right now that does not cause airflow restriction, it provides the best performance and fuel efficiency. With a regular propane tank, it provides more than 20 hours of run time – ideal for emergencies.
Pros
Runs super quietly, thanks to Honda's power inverter technology
No modifications are necessary, allowing you to install and disassemble with ease
An authentic no-drill Honda supported conversion, arriving 90% pre-assembled
Cons
Not technically CARB compliant
4. Nashfuel Tri-Fuel Subaru EX27 EX30 EX40 Conversion Kit
This tri fuel kit is a Nashfuel model, ready to help you convert your Subaru EX27, EX30, EX40, EH, or any EX30D engine-ran generator. Nashfuel is a highly recommended brand that is famous for its quality within the gennie community.
This kit, when fitted, will allow you to run your generator on low or high pressure propane, low pressure natural gas, or gasoline. Pick your preferred fuel and burn it as cleanly as possible.
This kit may be placed on the majority of suitable generators without the need for changes due to its smart, one-of-a-kind venturi design. Each component is made in the United States, so you know you're receiving the best.
Pros
Versatile range of fuel options available to you
Easy installation with no modding required (for most generators)
Reliable components manufactured in America
Cons
On the more expensive side for just a conversion kit
Buying Guide
If you currently have a dual fuel generator, you may easily convert it to a tri fuel generator to be better prepared for a prolonged power loss.
Many manufacturers sell conversion kits that guide you through the procedure and include everything you need.
The on demand regulator, which only allows fuel to flow when there is suction from the engine, and the carburetor adapter, which allows your generator to safely consume natural gas, are the most critical pieces of any conversion kit.
Most conversion kits also include spacers, gaskets, and any other hardware required to install the carburetor adapter on your generator. But, you may need to buy gas lines and fittings separately to connect your generator to your home's natural gas connection.
Remove the air filter housing from in front of the generator's carburetor as the first step in installing your carburetor adapter. Keep note of the air filter and gasket as you go, as you'll need them when you reassemble the generator.
You'll need to make some room in front of the carburetor now. Depending on the hardware included in your conversion kit, you may or may not have a spacer. Attach them to the bolts protruding from the carburetor where the air filter housing was previously positioned.
The carburetor adaptor can now be slid onto the bolts. Use Teflon tape over the threads to ensure that you can slide the adaptor back off if necessary, and to ensure that there is no empty space in the threads.
Reattach the air filter housing, making sure to put the gasket onto the bolts so that there is no open space where air can come in behind the filter housing.
It's now time to connect the on-demand regulator to the generator. Most conversion kits require you to drill into your generator in order to bolt the regulator directly to the frame.
You can also use bespoke hardware to secure the regulator to the frame without drilling.
Connect a gasoline hose from the on-demand regulator's outflow to the carburetor adaptor. If you only have one hose clamp, place it on the outflow of the on-demand regulator.
When it comes time to connect your generator to natural gas, you'll need an extra gas hose to connect the inflow power of the on demand regulator to your home's natural gas line. Having a set of simple adapters on hand during a power outage will help you get your generator up and running much faster.
You should also change the set screw on your on-demand regulator. Unscrew the set screw and start your generator, feeding it from your home's natural gas connection. The engine should start, but it will sound jerky. Screw in the set screw slowly until the engine catches and runs consistently, then secure it with the provided bolt.
To learn more about which Whole House Generators to choose, check out our detailed guide on.
Tri Fuel Conversion Kits For Generators
Tri fuel conversion kits are necessary for converting your dual fuel generator to a tri fuel generator. The right conversion kit should match your generator to avoid compatibility issues. These kits are available on Amazon, with prices ranging from less than $50 to over $200. Higher-priced kits have better quality parts and come with more hardware. My top choice is NashFuel, which offers kits for most generator makes and models.
HIPA makes less expensive natural gas conversion kits, but they are more obtrusive and require more technical knowledge. Hutch Mountain offers premium natural gas conversion kits with greater technical support.
When choosing a tri fuel conversion kit, it's important to consider not only the compatibility with your generator but also the ease of installation and the quality of the components. While more expensive conversion kits may be a larger investment upfront, they often offer greater reliability and durability in the long run.
It's also worth noting that while some tri fuel conversion kits may offer a wider range of fuel options, such as propane, natural gas, and gasoline, others may only offer two fuel options, such as propane and natural gas. Consider which fuel options are most important to you and your intended use for the generator when selecting a conversion kit.
In addition to NashFuel, HIPA, and Hutch Mountain, there are other manufacturers and suppliers of tri fuel conversion kits available. It's important to do your research and read reviews from other customers to ensure that you're choosing a reputable and reliable kit.
Finally, it's important to remember that converting a dual fuel generator to tri fuel may void the manufacturer's warranty. Be sure to weigh the benefits and risks before making the decision to convert your generator.
FAQ
Where should I install my on-demand regulator?
As long as you don't drill through any important components, you can mount your on-demand regulator anywhere on the frame of your generator. The gasoline fuel tank is the most crucial and visible component to avoid drilling through.
In general, you should secure your regulator with at least two bolts. Nevertheless, be mindful of adding more, since this might cause the exterior of your generator to resemble Swiss cheese and allow water to leak through if it's left outside in the rain.
Is it possible to remove the natural gas conversion later?
Yes. Removing a natural gas conversion kit is identical to installing it.
The only thing that cannot be undone during the conversion are the bolt holes drilled into your generator's frame.
If you intend to remove the conversion later, you can utilize custom hardware to mount the regulator onto the frame handle rather than the generator itself.
What if there is room behind my air filter during the conversion?
If you have space behind your air filter housing after inserting a spacer between it and the carburetor adapter, you have either the improper conversion kit or a badly built conversion kit. This is a concern since unfiltered air will enter your carburetor.
But don't be concerned. By using an unique rubber or metal gasket, you may eliminate this area. This must be cut to the same external size as the spacer, but with dimensions that fit behind the air filter housing.
What is the finest generator gas?
Natural gas is the finest gas for a generator because it is generally available and inexpensive for all types of generators. It is the most commonly used gas in home-based generators, although it is crucial to note that it contains less energy than other types of gas.
Always double-check the instruction handbook that came with your generator to see what gas can be used. There may be certain gases that you cannot use on certain generators, so always check before filling the generator.
Is it more cost effective to run a generator on gas or propane?
Generally, running a generator on gas is less expensive than running one on propane. Propane is less expensive at first, but because it contains less energy, it will cost you more in the long term than gasoline.
Furthermore, gasoline is more generally available, so if you are in a pinch and need to refuel your generator, it is always advisable to go with gasoline.
It is entirely depends on what you intend to use your generator for and how frequently you intend to use it when determining whether to fill it with propane or gas.
How big of a generator do I need for my house?
If you are buying a generator for your home, you should select a high-powered generator.
To power the larger appliances in the home, such as the washing machine, refrigerator, and freezer, you should search for a generator with 5,000-7,500 watts.
Because of the larger wattage count, you may safely run all of the appliances at the same time.
Is it okay to keep gas in my generator?
Simply told, it is not recommended to leave any gas in your generator while storing it. This means you are lowering the possibility of harm to the generator.
If you insist on leaving the gas in the generator, it is better to stabilize it first.
This will keep any possible rust at bay. You can leave the gas in your generator for several years with a stabilizer, but without one, you can only leave the gas in the generator for a few months before it causes harm.
If you do plan to add a stabilizer then add the gas and run the engine for several minutes before turning it off and storing it away.
Conclusion
When it comes to powering your home during a protracted power outage, tri fuel generators provide convenience and preparedness.
If you're looking for a new tri fuel generator, I recommend the Smart Generators Pramac 7,500-watt generator. If you already have a dual fuel generator, you can easily convert it to a tri fuel generator with a conversion kit.