The online casino sector doesn't stand still and the technological and creative forces that have shaped the industry continue to deliver innovation and new gaming experiences.
In 2023, we have seen multiple trends emerge in the online slot gaming sector. There has been a clear shift towards developers offering higher volatility and bigger payouts in their games. The combination of the Megaways mechanic and payouts of x20,000 and upwards is becoming increasingly common. Other trends include new gaming mechanics such as the Million Ways system, games with RTP ranges, and even more features to engage new players.
Another fascinating development that has continued throughout 2023 is the evolution of the casino site itself. We are seeing more specialized casino sites, such as those focusing on cryptocurrency and the ongoing growth of sweepstakes, and social gaming sites, such as sweepstakescasino.net, which offer a fresh and more social take on the traditional online casino experience.
Of course, the core of the online casino product remains the slot game. The vast majority of online casino sites will be dominated by slot games. In 2023, slots developers have continued to push back the boundaries of this form of software, and in the era of gamification, new slots are increasingly based around well-developed themes. Here are some of the best of the year so far:
1. Crypt of the Dead
Ancient Egypt is hardly a new theme within the online slot gaming world, but Blueprint Gaming, based in the UK, has produced an interesting new twist on the traditional theme, based around a forgotten Egyptian tomb.
Blueprint Gaming is known for its strong graphical and design sense and that is clear in this game. They have been able to reinvent and refresh the Egyptian theme, providing a new twist on it, while at the same time providing many of the features that fans of this theme expect.
While the game looks great, it isn't just about the visuals. The base gameplay is thoroughly modern, with as many as 4,096 pay lines available across the six reels. There are 11 beautifully designed symbols across the grid and a host of potential bonuses. For example, if a player lands three of the Golden Temple scatters, this launches the Free Spin bonus round, which can lead to a win of 50 free spins, which is significantly more than we have come to expect in modern slots.
With a maximum payout of 40,960x, this attractive and engaging slot fits in with the trend towards higher-paying games and is already proving popular with slot fans.
2. Mochimon
Pragmatic Play is one of the giants of the online slot development world and has produced another popular and delightfully themed game in Mochimon.
The theme combines some of the elements of popular Pokémon-style games with the bright colors and attractive visuals of games such as Candy Crush, and the overall effect is engaging and fun.
In fact, comparisons to Candy Crush are particularly apparent in the gameplay itself, in which players win prizes by matching clusters of icons, rather than lines. There is a maximum payout of 5,000x, so this is not among the highest-paying games of 2023, but it is lovely to look at, easy to pick up and play and perfect if you're looking for a modern, light online slot experience.
3. Fly Cats Dream Drop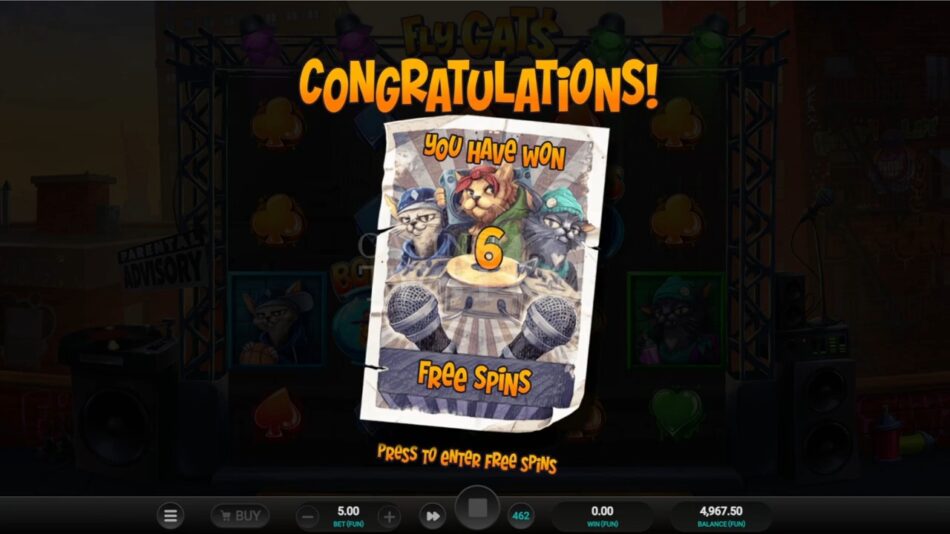 Progressive jackpots are always popular. Relax Gaming has added a new game to the mix, with the release of Fly Cats Dream Drop. This is a thoroughly modern-looking game that provides a relatively fresh theme, based around hip-hop and cats.
As you would expect with a progressive jackpot, there is a lower RTP than with standard games, but the flipside of that coin is that the potential jackpot can be huge. The base game has a standard maximum win of 5,000x, but this can be trebled in the bonus game, due to the effect of mystery re-spins and sticky wilds. The jackpot prize itself can reach eight figures.
This is a fun, modern slot, with a great design and a catchy theme, and it is sure to become more popular as 2023 goes on.
4. 10 Swords
Roman themes have not been quite as popular as Ancient Egyptian in the online slot world, but there is a long history of Rome-based games. Push Gaming has produced another with the release of 10 Swords, which is already earning a lot of praise and attention.
The game itself is offered on a basic 5×3 grid and has 20 pay lines, so there is nothing here to deter players who just want a quick and easy game experience. Landing scatters on the reels will bring you free spins, but the main attraction of this game is the collecting swords mechanic. If you can land all 10 swords on a single spin, you will earn the maximum payout of 5,000x, though the wins start after landing four swords, which doubles your stake.
The chunky Roman icons and crisp backdrop, combined with the incorporation of Roman swords into the gameplay itself provide a perfect example of the way that modern slots developers are bringing together accessibility and innovation and this game is sure to rate highly in 2023 and beyond.
Final Thoughts
The year 2023 has brought forth a captivating array of themed slots that have elevated the online casino gaming experience to new heights. Among the best-themed slots of the year, these stand out as some of the best with thrilling gameplay and exciting mechanics. The immersive graphics and sounds create an atmosphere that keeps players on the edge of their seats. It's up to you to choose your favourite.
The best new themed slots right now have showcased the innovation and creativity of the gaming industry. With their captivating themes, stunning visuals, and engaging gameplay, these slots have undoubtedly left a lasting impression on casino enthusiasts. Whether players seek adventure, cuteness, fantasy, or adrenaline, the diverse range of themed slots available in 2023 has something for everyone, ensuring that the excitement of online casino gaming continues to thrive in the years to come.